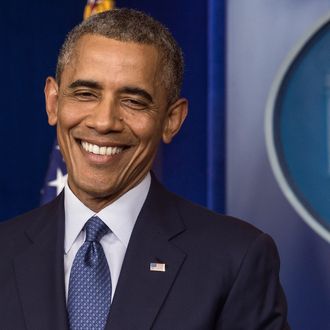 Photo: Nicholas Kamm/AFP/Getty Images
There are an infinite number of parallel universes where an infinite number of people are performing the Ice Bucket Challenge for social-media attention over and over and over again until space folds in on itself and time ceases to exist. It's literally physics. But in our current universe, there is only one man who can end the Ice Bucket Challenge meme once and for all: The President of the United States. [Cue heavy metal guitar sound.]
In case you're not convinced this whole thing has gotten out of hand (insofar as successful charity causes can get out of hand), Vogue editor Anna Wintour just posted a video of herself and her family participating in the challenge. As one Facebook commenter noted, it is the first time in the history of mankind we have ever seen Anna Wintour with a hair out of place. Have we not gone too far? (The children seen in the video were reportedly granted a brief reprieve from having to spin the silk they sew into Anna Wintour's clothes with their tiny fingers.)
Other high-profile Ice Bucket Challenge takers include George W. Bush, Oprah, and Ethel Kennedy, along with a slew of senators and governors. Unfortunately, Obama declined to take up Kennedy on the challenge, though he did say he would donate to the cause.
In truth, I see only one way this can end, and it will require a ton of peer pressure: Bush has challenged Bill Clinton. When Bill's turn comes, he must challenge Hillary. Then Hillary must do what's right for the country and challenge President Obama.
Of course, Obama could choose to challenge David Cameron, and then we'll have a real international meme on our hands. But maybe by then we'll have figured out how to transport ourselves into another universe where ALS never even existed.