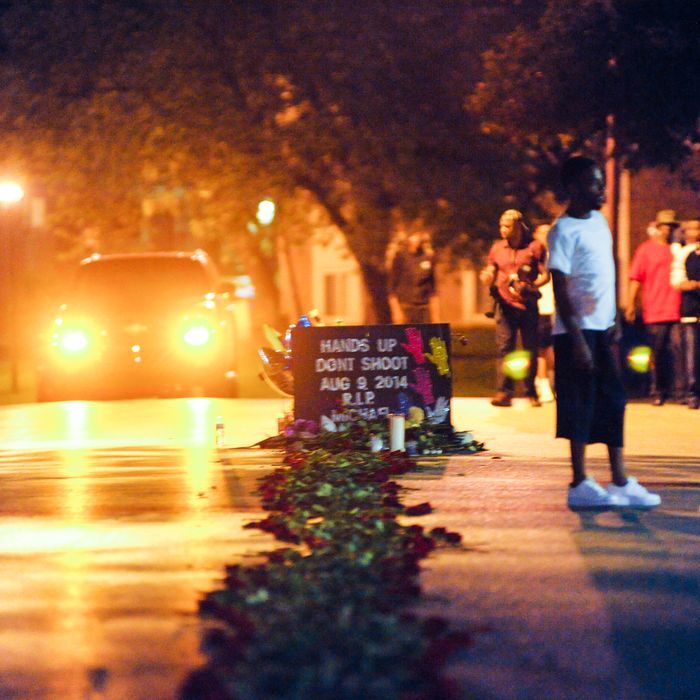 Photo: JB NICHOLAS/Splash News/Corbis
It looks like the relatively calm protests on Wednesday night in Ferguson, Missouri, weren't an anomaly. The streets where shots were fired and police threw tear gas earlier this week were peaceful on Thursday evening, hours after Governor Jay Nixon announced that the National Guard would begin withdrawing. The crowd on West Florissant Avenue dwindled to about 100 on the 13th night since 18-year-old Michael Brown was killed by police officer Darren Wilson. Before nightfall, an anonymous group of people laid a line of long-stemmed roses down the middle of Canfield Drive and lit candles where Brown was shot.
Seven people were arrested for minor offenses like failure to disperse, compared with 6 on Wednesday and 47 on Tuesday night. But for the most part, the crowd kept moving and there was far less tension with police. The Washington Post reported that the "atmosphere was more like a backyard barbecue," and officers were seen chatting with protesters and playing basketball.
Highway Patrol Captain Ronald Johnson attributed the shift to two developments on Wednesday: Attorney General Eric Holder's arrival in Ferguson, and an announcement that a St. Louis County grand jury had started reviewing the case. "I think it shows that the process has begun, and people know the president is watching," Johnson said.
Some protesters agreed, but one, Michelle Seddins, told the St. Louis Post-Dispatch, "It won't really be solved until [Officer Wilson] is behind bars. This is not something that can be swept under the rug."