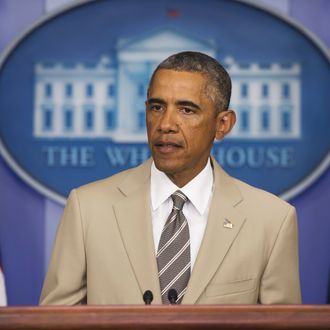 "Seriously?"
Photo: Saul Loeb/AFP/Getty Images
President Obama's ugly beige suit has quickly gone from stupid joke — "The president stands squarely behind the decision he made yesterday to wear his summer suit," the White House press secretary said today — to stupid faux controversy thanks to who else but Long Island Republican Representative Peter King. "There's no way, I don't think, any of us can excuse what the president did yesterday. I mean, you have the world watching," said King on right-wing internet TV today.
"For him to walk out — I'm not trying to be trivial here — in a light suit, a light tan suit, saying that first he wants to talk about what most Americans care about, and he said that's the revision of second quarter numbers on the economy," King continued, operating at Peak Peter King. "This is a week after Jim Foley was beheaded, and he's trying to act like, you know, real Americans care about the economy, not about ISIS and not about terrorism. And then he goes on to say that he has no strategy."
Peter King, it should be noted, has been known to wear a tan suit:
Then again, these were pre-9/11, and Peter King has never discussed much of substance, so his point may still stand.