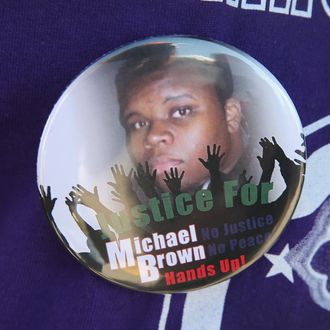 Photo: Scott Olson/2014 Getty Images
In another surprising shift, authorities said late on Thursday night that they are preparing to release the name of the officer who fatally shot 18-year-old Michael Brown on Saturday. Ferguson Police Chief Thomas Jackson told the Los Angeles Times that the officer will "probably" be identified on Friday. One thing we already know:  It's not the man identified by the hacker collective Anonymous. As part of "Operation Ferguson," the group had already crashed the city's web servers and posted the addresses of the county police chief's family this week. Then on Thursday, they tweeted out the name of the officer they said killed Brown — though according to the man's stepmother, he's a 32-year-old former dollar-store manager who works as a police dispatcher in St. Ann, Missouri.
The incorrect revelation sparked infighting among Anonymous members, and left Kathie Warnack, the man's disabled 48-year-old stepmother, fearing for her family's safety. USA Today's Yamiche Alcindor visited the address in St. Louis released by the group, and explained what had happened to Warnack. She "started quietly crying" and said her stepson doesn't even live at that address. Alcindor described her reaction:
"Wow, this is not good," said Warnack, as she began to cry on the steps of her home, which sits along a busy road.

"I guess I'm going to have to sleep with my gun and put cameras on the house," she said. "Now I have to defend myself and I didn't do anything wrong."

Warnack is disabled by a birth defect that means she has an artificial left leg and less than five misshapen fingers on each hand.

She said she has a small gun to protect herself, but has never used it.
She said she needed to call her stepson to warn him and worried that someone would target her home, saying, "I've been watching everything unfold on the news and it's scary." She added, "Anonymous has really gotten out of hand." Vigilante justice usually works out so well, but she's probably right on that one.