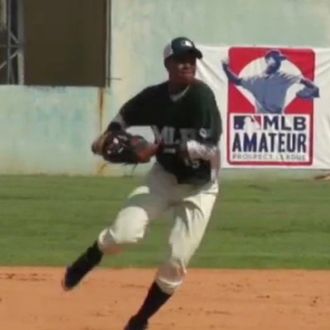 Christopher Torres.
Photo: MLB.com
Baseball prospects from outside the United States, Canada, and Puerto Rico aren't subject to Major League Baseball's draft, which means they're allowed to sign as free agents when they're as young as 16 years old. And so every year on July 2 (or shortly thereafter), the top players from countries like the Dominican Republic and Venezuela sign life-changing contracts with Major League teams. (You can read more about that process in our print-magazine feature from last month.) Many of the elite players sign within the first 24 hours, and they're able to do so because negotiations have been going on for months. Technically, Major League clubs can't talk to eligible players until July 2, but the practice is widespread, and the league tacitly accepts it. But thanks the current MLB collective bargaining agreement, such a process can be cruel to players.
Consider what Christopher Torres, a switching-hitting 16-year-old shortstop, claims the Yankees did to him. Torres's trainer alleges the team backed out of an oral agreement to sign him to a contract with a $2.1 million signing bonus. Indeed, Kiley McDaniel, a writer for Scout who covers international prospects, says he'd been hearing for months that Torres had reached an agreement with the Yankees.
Baseball America reports that the trainer, Orlando Mazara, says the verbal deal was reached last October, but the team informed him in June they wouldn't be signing him. The timing was terrible for Torres: Major League Baseball's current collective bargaining agreement places caps on how much teams can spend on such players, and other clubs had already agreed to their allotted money.
"The kid was crying," Mazara told Baseball America. "His family, they were upset because they broke their word. They broke everything."
Yankees vice president Mark Newman, meanwhile, told Baseball America that they never made an offer:
"It's really simple," Newman said. "We scouted the guy, we worked him out, we talked to the agent, we talked to the family. We did not make an offer. We did not sign the guy and we did not have an offer. We talked about various levels of interest on our part and their part, but there was never any offer."
Mazara says that after they reached the alleged agreement, he stopped having Torres work out for other teams. He also alleges that while the shortstop was under the Yankees' watch in their training facility, the team didn't want him to work too much, and he instead spent "his whole days watching TV," leading to "rapid weight gain." Newman says Mazara's version of those events is not accurate.
According to Mazara, it all fell apart after Torres made the trip to the team's Tampa complex in May. While there, he felt pain in his shoulder and was unable to throw from short. It was at that point, Mazara claims, that the Yankees called the deal off.
This particular situation is a case of he said, he said — but it shines a light on a flaw in the system. Even if teams are talking to players in the months prior to July 2, they can't make anything official. That means teams can change their minds, and while Baseball America notes that it's "general industry code of conduct" for both teams and players to honor their oral agreements, teams do still back out. (Torres's camp filed a complaint with the commissioner's office, but nothing has come of it.)
If the league looks the other way, teams will always negotiate early so they can better determine how to use their allotted signing budgets. But those spending caps, introduced in 2012, mean that players like Torres are left with little recourse and few options if a team backs out so late in the game. Teams can decide not to sign them because of an injury, but they can also simply change their minds. Torres's case is complicated because of his conditioning issues and who's to blame for them, but it's a reminder of how unfair the process can be to these young prospects, who can be exploited in other ways, as well.
As for Torres, Baseball America reports that he's at home with his mom, dad, sister, and two pet chickens, and that he's rehabbing his shoulder, in hopes of showing off his stuff to teams at a later date.