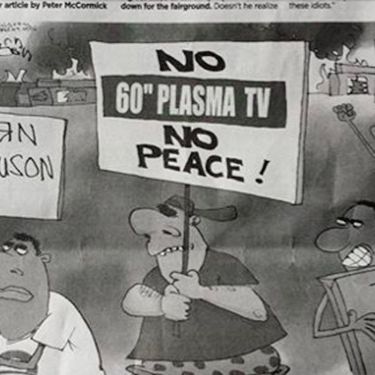 Photo: Cartoon by Gary McCoy, Photo by Sam Cohen
In case you were wondering how mending race relations in Missouri is going, yesterday's Columbia Daily Tribune featured this syndicated cartoon by conservative illustrator Gary McCoy, who once depicted Barack Obama destroying fetuses with a baseball bat. 
With all eyes on Ferguson, the backlash was more widespread than with your average Daily Tribune piece, so managing editor Jim Robertson began sending out form letters in response to complaints. "I admit I didn't anticipate the reaction," he told Romenesko.
I'm responding to complaints, most of which have come through the Twitter universe, by asking them to consider the context. On three of the preceding four days our editorial page featured local cartoons about the Michael Brown tragedy, the militarization of the police response and a likeness of Lady Justice with six bullet wounds.

The editorial cartoon yesterday accompanied a Rich Lowry column about the unfortunate presence of looters and how that is not a legitimate form of protest. Provocative yes. Racist? Certainly not in intent.
The context? National Review editor Lowry's column, which is titled "Overly aggressive police are being provoked." Lowry writes, "We are supposed to believe that the rioters were so deeply hurt by the Brown shooting that they felt compelled to go steal and destroy innocent people's property and, judging by video of the looting, apparently have a grand time doing it."
But to those who believe depicting a mostly peaceful protest as made up entirely of menacing, greedy goons, Robertson does appreciate your note. Thanks!