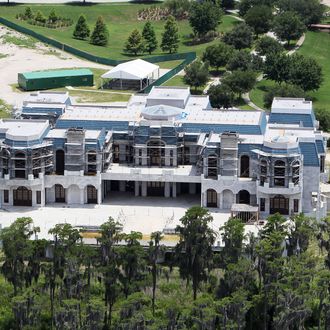 Aerial pictures of the biggest home in America - being built over 10 acres in Windermere, Florida, and modeled after France's historic Palace of Versailles - which is the centrepiece of an award-winning documentary opening this week and now a bitter dispute. The documentary, 'Queen of Versailles', is about time share mogul David Siegel, his former beauty queen wife Jackie, and the collapse of their dream home project when the recession hit. As they struggled to complete the gigantic project, they put the unfinished 13-bedroom, 23-bathroom mansion on sale for $75m, then $65m. The movie received rave reviews - as well as a prize at the Sundance Film Festival - as it showed an extravagant take on the implosion of the American Dream, according to reviews. Now, as the movie is about to be released, Mr Siegel has fired off a letter asking for the ending to be changed since he claims his company is healthy and he will now have no problems completing the construction. He is also suing the film makers over what he claims are defamatory statements about his economic situation, according to reports. Photos taken on 4/06/2010.
Photo: SDFL / Splash News
Today, in The Wall Street Journal's "Mansion" section, you'll find a story about actual mansions and just how hard it is to take care of them. Did you know huge houses require a huge staff to keep them up and running? I can't even imagine how exhausting it must be to hire, employ, and underpay a full-time staff to dust the sterling Tiffany's fixtures and wax the yacht. (Do yachts get waxed?) Not to mention the emotional debt accrued when having to make polite small-talk with the maid. Ugh, gross.