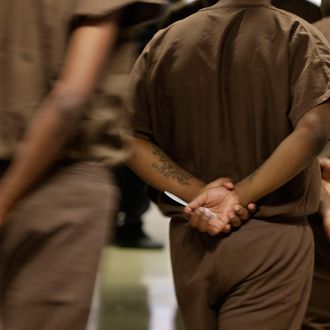 Photo: Julie Jacobson/Corbis
In a report this week on the treatment of teen inmates at Rikers Island, U.S. Attorney Preet Bharara described the prison as "a place where brute force is the first impulse rather than the last resort, a place where verbal insults are repaid with physical injuries, where beatings are routine, while accountability is rare." Still, one would probably assume that the guards accused of severely beating two inmates strapped to gurneys would be punished after the case was referred for prosecution twice by the New York City Department of Investigation, highlighted in Bharara's report, and described in a front-page New York Times exposé last month. However, the Bronx district attorney's office said on Tuesday that it has decided not to prosecute the officers who allegedly left the walls of a medical examination room stained with the blood of two inmates.
Witnesses were so disturbed by the December 2012 incident that they reported it to investigators, which is rare at Rikers. Three anonymous clinicians told the Times that after Andre Lane, 24, splashed guards with an unknown liquid, he was taken from solitary confinement, handcuffed to a gurney, and wheeled into a clinic examination room where there were no video cameras. Lane repeatedly screamed, "Don't leave me, they're going to kill me." The witnesses say about six officers were in the room, and several medical staffers begged them to stop beating Lane, but they refused. Later a second inmate, 20-year-old Tamel Dixon, was taken to the examination room and beaten as well.
The official incident report said, "Dixon was eventually escorted to the main clinic for medical examination without any further incident of force used." A senior health official told investigators that one of the guards warned him not to tell anyone what really happened, remarking, "Sure is good there were witnesses to see that those guys hit their heads on the cabinets themselves."
The case was referred for prosecution in July 2013 and June 2014, but on Tuesday a Bronx district attorney's office spokeswoman told the Times that the case will not move forward "because of inconsistent versions of events, contradictions between the witness statements and the forensics (injuries of the inmates), and the inability of witnesses to observe the events."
The U.S. attorney's report described a "powerful code of silence" among Rikers staffers, and it's clear just from the statistics exposed in the last month that it's extremely rare for Rikers guards to be prosecuted for assaulting inmates. While The Times reported that between January and November last year 129 inmates were injured so badly by guards that they required emergency treatment, in the last five years the Bronx district attorney's office has opened just 20 cases against correction officers, and only four have resulted in prison sentences.