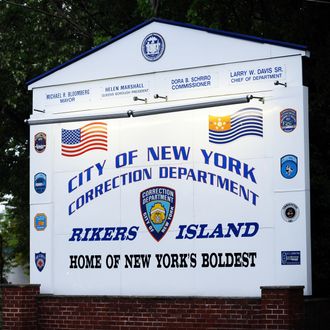 Photo: Jewel Samad/AFP/Getty Images
Dozens of Rikers inmates who refused to comply with a new 9 p.m. curfew were sprayed with a pepper-spray-like substance on Monday night, reports DNAinfo. The rule change requires prisoners to be in their cells with the lights out two hours earlier than the previous 11 p.m. curfew and was implemented starting August 4, reportedly as a way to halt the prison's recent spike in violent incidents (although not the ones at the hands of the guards).
On Monday night, when two housing units at Rikers' George R. Vierno Center disobeyed the new curfew, the Department of Justice said they were subdued using an unnamed chemical. Although no one was seriously injured, 68 inmates were treated for exposure to the spray.
Meanwhile, the Post has an interesting take on this story: "Rikers inmates riot after being sent to bed with no TV." Somehow we don't think the threat of missing Under the Dome was to blame for the disturbance.