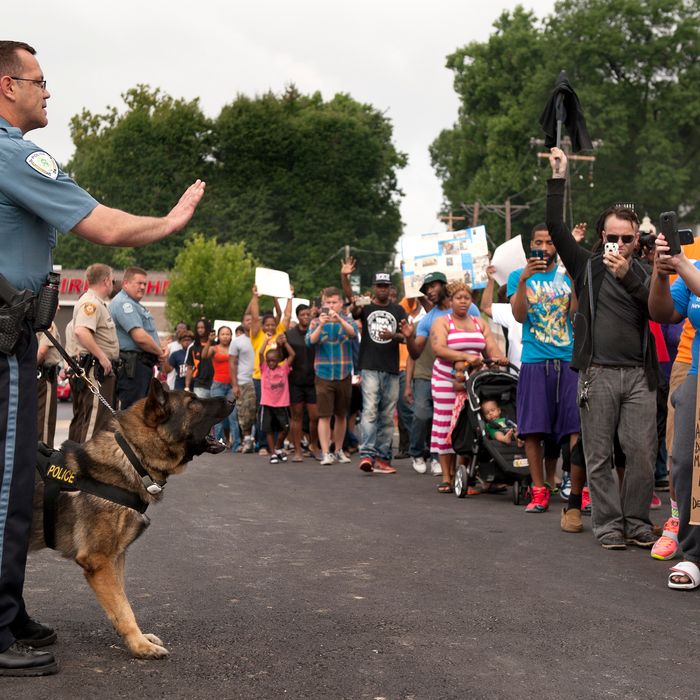 Protestors confront police during Sunday's rally.
Photo: Sid Hastings
A vigil to protest the death of 18-year-old Michael Brown, an unarmed black man shot by police on Saturday, turned violent on Sunday night, with people blocking traffic, vandalizing police cars, and looting stores in Ferguson, Missouri. TV footage shows people smashing store windows, walking out with merchandise, and ransacking an ATM. A fire was set behind a liquor store, and there were reports of multiple gunshots. Police in riot gear tried to keep the situation under control, and shortly after midnight they used tear gas to disperse the crowd. "Right now, the small group of people are creating a huge mess," Ferguson Mayor James Knowles told Fox 2 KTVI-TV. "Contributing to the unrest that is going on is not going to help … We're only hurting ourselves, only hurting our community, hurting our neighbors."
Earlier on Sunday, several hundred people demonstrated outside Ferguson Police headquarters and walked into a police building chanting "don't shoot me" while holding their hands up — a reference to the witnesses' claim that Brown had his hands up when police shot him multiple times.
Police say Brown shoved an officer as he was exiting his vehicle, then the two struggled inside the car as Brown attempted to grab the officer's weapon. They exited the car and the officer shot Brown.
Brown's friend Dorin Johnson says they were walking in the street when the officer pulled up and told them to "get the eff onto the sidewalk." Johnson says the officer then reached "his arm out the window and grabbed my friend around the neck." Witness Piaget Crenshaw said he saw the officer chasing Brown. "They shot him and he fell. He put his arms up to let them know that he was compliant and he was unarmed, and they shot him twice more and he fell to the ground and died," said Crenshaw.
Several thousand demonstrators gathered again on Sunday at 8 p.m. for a candlelight vigil at the spot where Brown was killed.
Afterward, people broke into several nearby stores, including a liquor store, a grocery store, and a check-cashing store. This video shows looting at the QuickTrip gas station:
Eventually, the gas station was set on fire.
Antonio French, an alderman of the 21st Ward in St. Louis, posted other shots of the rioting and the police response:
Earlier in the day, the St. Louis County Police said on Facebook that they were contacting the FBI, and "If they choose, they may conduct a separate use-of-force investigation on this incident directly with the Ferguson Police Department." Two Justice Department representatives reportedly arrived in St. Louis on Sunday night. The St. Louis County Police said they are investigating the incident as well, and, "There is no bias or favoritism applied as we are an outside agency and were not involved." They added, "We are sorry that a young man lost his life and ask all to give their condolences to the family along with their thoughts and prayers."