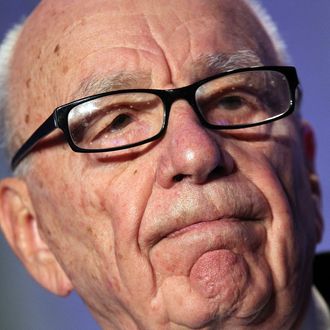 No deal.
Photo: Justin Sullivan/Getty Images
21st Century Fox has withdrawn its bid to take over fellow media giant Time Warner after weeks of batting its eyelashes — and $80 billion — but getting nothing in return. "We viewed a combination with Time Warner as a unique opportunity to bring together two great companies, each with celebrated content and brands," said Fox chairman and CEO Rupert Murdoch in a statement, passive-aggressively insisting it could still work between them. "Our proposal had significant strategic merit and compelling financial rationale and our approach had always been friendly. However, Time Warner management and its Board refused to engage with us to explore an offer which was highly compelling." Their loss.
"Additionally, the reaction in our share price since our proposal was made undervalues our stock and makes the transaction unattractive to Fox shareholders," continued Murdoch. "These factors, coupled with our commitment to be both disciplined in our approach to the combination and focused on delivering value for the Fox shareholders, has led us to withdraw our offer."
Although Murdoch is known for getting his way, and Time Warner would have been a big, fat jewel in his mogul crown, the New York Times reported this morning, ahead of the companies' quarterly earnings reports, that his proposed deal did not quite look inevitable. While there could still be more steps in this "mating ritual," it's not looking good.
Fox did say it would buy back $6 billion shares instead, the Times reports, which sent prices up in after-hours trading, "while Time Warner shares fell more than 10 percent."