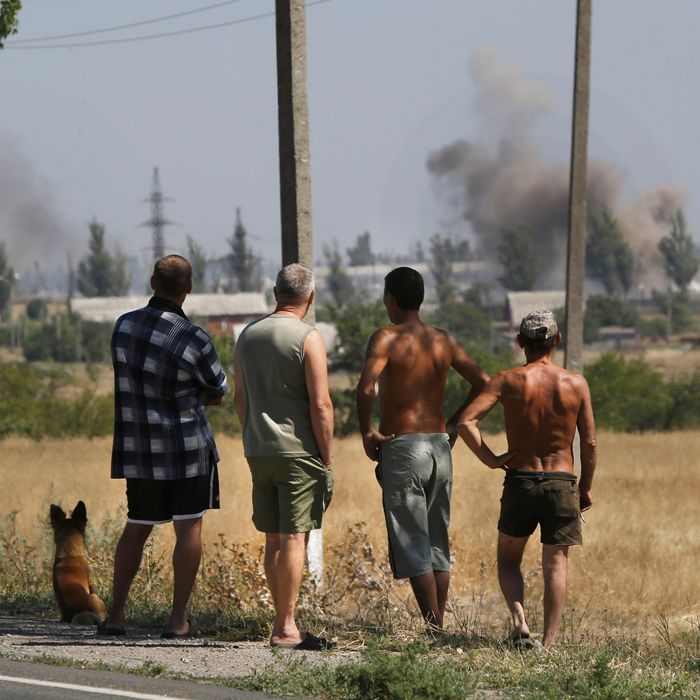 Photo: Sergei Grits/AP/Corbis
Ukrainian leader Petro Poroshenko canceled a trip to Turkey on Thursday as Russia's hold over the border town of Novoazovsk grew stronger.
Poroshenko cited today's "sharp aggravation of the situation in [the] Donetsk region, particularly in Amvrosiivka and Starobeshevo, as Russian troops were actually brought into Ukraine."
Yesterday, pro-Russian forces invaded Novoazovsk, easily defeating Ukrainian troops. This move opened a third front on Russia's border with Ukraine and has led many to worry that Russia would try to conquer a land route to Crimea along the Sea of Azov.
Russia has continually denied that its troops are active on Ukrainian soil, despite mounting evidence to the contrary. It continued to do so Thursday, as NATO released satellite images evidently showing Russian artillery units in Ukraine and said that more than 1,000 Russian soldiers are now fighting among the rebels. 
(As we reported yesterday, Russian parents are increasingly concerned about where their sons are dying if the country isn't at war with Ukraine.)
"Over the past two weeks we have noted a significant escalation in both the level and sophistication of Russia's military interference in Ukraine," NATO's Brigadier General Nico Tak said in a statement. "The satellite images released today provide additional evidence that Russian combat soldiers, equipped with heavy weapons, are operating inside Ukraine's sovereign territory."
Meanwhile, an entire Ukrainian battalion — hundreds of people — deserted a battle zone after coming under heavy fire from pro-Russian forces. They said they had "been in hell."
"Ukrainian forces are capable to tackle and to cope with the Russian-led guerrillas," said Ukrainian prime minister Arseniy Yatsenyuk in a video appeal. "But this is quite difficult for us, to fight with Russia, and its army." He urged other countries to freeze Russian assets in an attempt to put pressure on the country. 
A debate rages on about what further actions the U.S. and Europe can take to contain the conflict, although the EU is set to meet and discuss further sanctions on Russia. Meanwhile, the United Nations Security Council convened a special meeting today to discuss the ongoing crisis, and diplomats continued throwing shade on Twitter:
A few brave souls came out for antiwar protests in Moscow, but how that ended is not surprising: