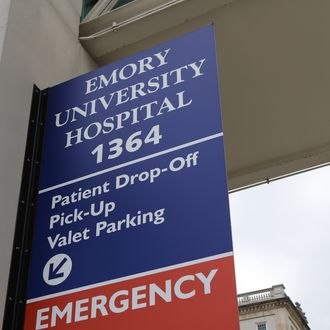 Photo: Jessica McGowan/2014 Getty Images
59-year-old Nancy Writebol, an American nurse who caught Ebola while caring for people with the virus at a missionary clinic in Liberia, landed in the United States on Tuesday morning. She will join fellow Ebola patient Dr. Kent Brantly (who became infected while working at the same place) at Emory University Hospital, where he has been receiving treatment in an isolated unit since Saturday.
Brantly and Writebol were both able to take an experimental antibody serum in Liberia and are now showing signs of improvement. On Monday, Writebol's aid organization, SIM USA, announced that she was "up and walking" and had been able to hold down some potato soup and coffee as she prepared for her journey home. (An appetite for anything is a good sign for someone with Ebola, as people suffering from the disease are often vomiting too much to eat.)
Meanwhile, Brantly has seen and talked to his wife, parents, and siblings "through a protective glass enclosure" at Emory's hospital. Brantly's family had been told that his condition was deteriorating on Thursday, before he left Liberia, but ABC News reports that his wife emerged from her visit with him "grinning ear to ear." "He is in good spirits," she said in a statement. That sounds downright encouraging, all things considered.