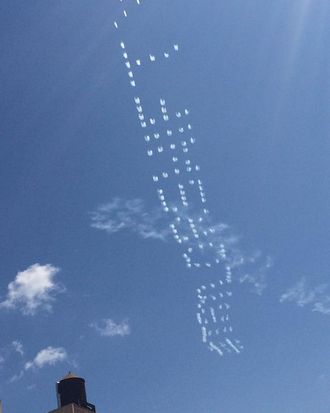 Photo: Caroline Moss via Twitter
All the sky's a canvas for Taylor Swift's fairy-dust-powered publicity machine. The flaxen-haired songstress is gearing up for a press tour for her forthcoming fifth studio album, and if you're already sick of the "I woke up like this" air of perfection she exudes when leaving sweaty places like the gym, you're about to get a whole lot more sick of her. Girlfriend is about to be everywhere. Including, apparently, the sky.
Business Insider reporter Caroline Moss spotted a plane writing "#TaylorSwift" in the sky over the Flatiron this afternoon. Because if Jimmy Fallon and Seth Meyers aren't enough to generate buzz, a girl's gotta do what a girl's gotta do, and a girl's gotta write her damn name in the sky.
The planes also spelled out "8/18 5 p.m. Yahoo," an advertisement for Swift's upcoming livestream announcement, which fans speculate will be about her new album.
Such whimsy, that Taylor.