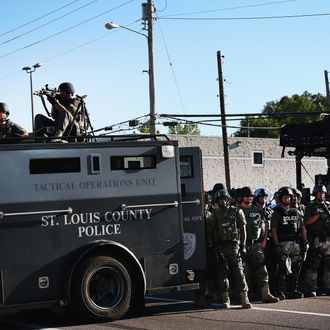 Ferguson.
Photo: Scott Olson/Getty Images
A man is dead in north St. Louis after he reportedly "walked into a store and showed a knife" on Tuesday afternoon, according to the local Fox 2 affiliate. "Police were called but the suspect refused to put down the weapon. He tried to attack police and was shot and killed by the officer."
KSDK St. Louis reports that the shooting occurred around 12:30 p.m. at Riverview Boulevard and McLaran Avenue, "approximately four miles from the unrest in Ferguson." KMOV says the incident took place outside of the Six Stars Market. No officers were reported injured.
While the story is still developing, there's no way this helps.
Update, 3:02 p.m.: According to St. Louis Police Chief Sam Dotson, the victim was a 23-year-old black male. "One of the witnesses described it a suicide by cop," Dotson said at a press conference. After being confronted for shoplifting, the man allegedly said, "shoot me now, kill me now." Two officers fired.
"Every police officer that's out here has a right to defend themselves," said Dotson. "Officer safety is the number one issue."
Update, 3:18 p.m.: Already, the community response is building: