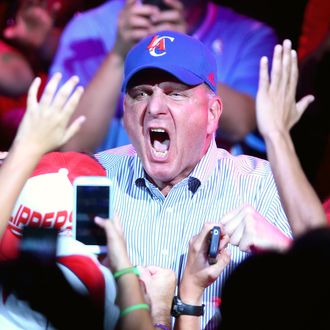 Photo: Jeff Gross/Getty Images
The Journal has a lengthy piece today about everyone's favorite yeller Steve Ballmer and his transition from Microsoft CEO to L.A. Clippers owner. Buried within are several delightful nuggets about Ballmer, who seems to be settling quite nicely into his new role as basketball cheerleader.
1. He really likes Eminem:
As the fan event began, Mr. Ballmer waited alone in the arena tunnel while players were introduced. He jumped up and down, pounded the walls and pumped his fist. Then he burst out to the music he had selected: Eminem's "Lose Yourself."
2. The Clippers deal included a special title for Shelly Sterling:
Ms. Sterling's lawyer asked for $2 billion, courtside seats, parking spaces and the title of "owner emeritus." Mr. Ballmer agreed and threw in the title of "Clippers #1 Fan." 
3. While nursing a bruised ego after he was effectively ousted from his position as Microsoft's CEO, Steve-o coped the only way he knew how: by binge-watching 100 episodes of The Good Wife, about 7 episodes a day.
Billionaire CEOs, they're just like us!