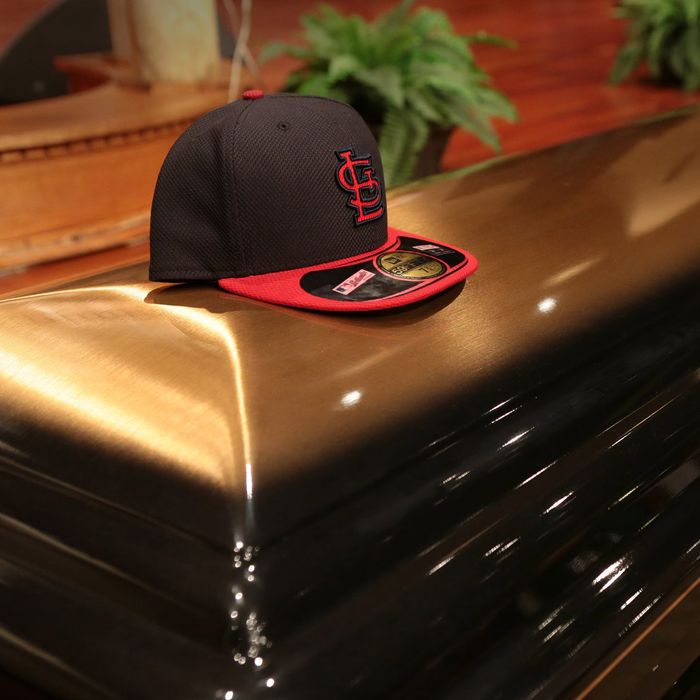 Photo: Robert Cohen-Pool/Getty Images
"There's a lot of tension in the air, so we don't want anyone to get overheated," Pastor Michael Jones told his congregation on Sunday, as the church readied to host what they're calling the "Homegoing Service" for 18-year-old Michael Brown. "I thank God every time we're able to turn the A/C on."
The tensions that have gripped this city since the unarmed Brown was shot to death by police officer Darren Wilson seem to have eased, for today at least. The line of mourners began forming at 7 a.m., three hours before the start of the service; the gargantuan and incredibly modern church is prepared to accommodate up to 5,000 people in its many buildings (some in what they're calling "overflow" rooms), with live-streams and air conditioning for all. Save for a round of "We Shall Overcome," most everyone seemed to be adhering to the request of Michael Brown Sr. to stop protesting as a day of silence for his son.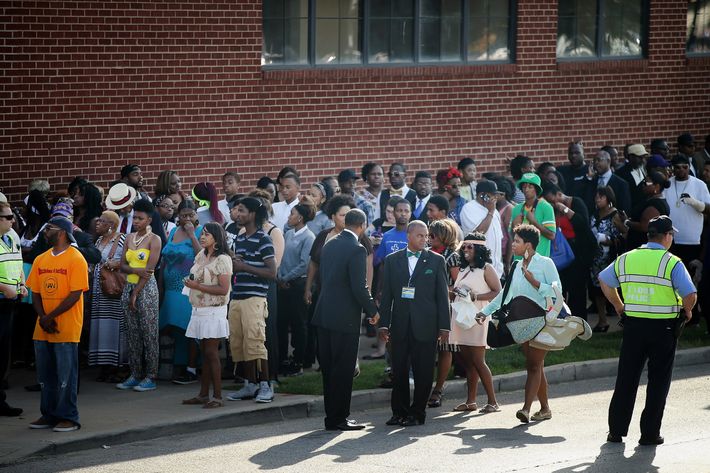 "This is like when I went to Dr. King's funeral," said Donald Jones, a reporter for the Gettysburg Times, now in his late 70s. "Though that was more than 20 times bigger. Most people couldn't get into the church."
"They haven't learned a damn thing since the '50s," chimed in Lillie Vinson, 79, who's from St. Louis. "Different times, same problems. No reason that boy had to die."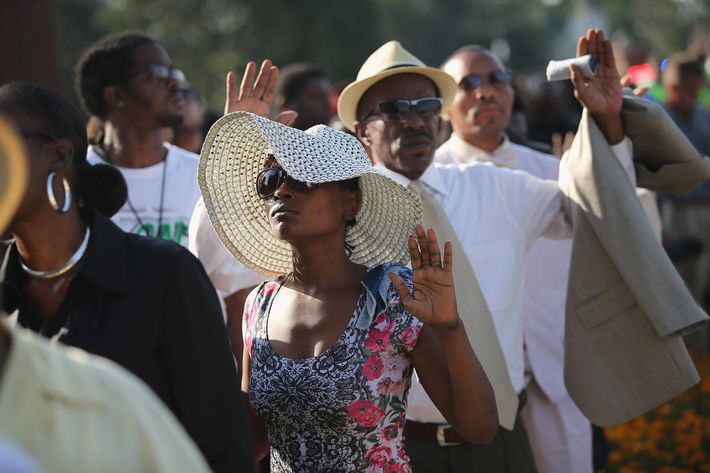 The crowd includes members of the New Black Panther Party, who've been on the ground in Ferguson every night keeping the peace; clinical psychologists who've been offering their services to the residents of Canfield Apartments; stern-faced young men from the town; and more than 600 members of the Brown family. The Bishop TD Jakes, and Reverends Al Sharpton and Jesse Jackson are in the building, as well.
The Times reports, "At least three White House officials plan to be there, including Broderick Johnson, assistant to the president, White House cabinet secretary and chairman of the My Brother's Keeper task force; Heather Foster, an adviser for the White House Office of Public Engagement; and Marlon Marshall, a deputy director of the White House Office of Public Engagement who attended high school with Mr. Brown's mother." Family members of Trayvon Martin, Emmett Till, Sean Bell, and Oscar Brown are present.
And celebrities, too:
"So what? We're here, too, and we're going to be here," said Freida Wheaton, 60, a St. louis gallery owner who's organizing a "Hands up, don't shoot" art show to be held throughout the city across 18 venues, one for every year of Michael Brown's life.

And it's that life — and life itself — Pastor Bogier reminded the crowd, that they'd come to celebrate, with a full band and gospel choir and thousands of voices raised in the song ("God Is," "Praise him," "I Shall Wear a Crown").
Watch the ceremony here, as we continue with live updates from the ground:
In lieu of flowers, Brown's family has asked for contributions to the Michael Brown Jr. Memorial Fund, according to attorney Benjamin Crump.
Additional photos from the scene: