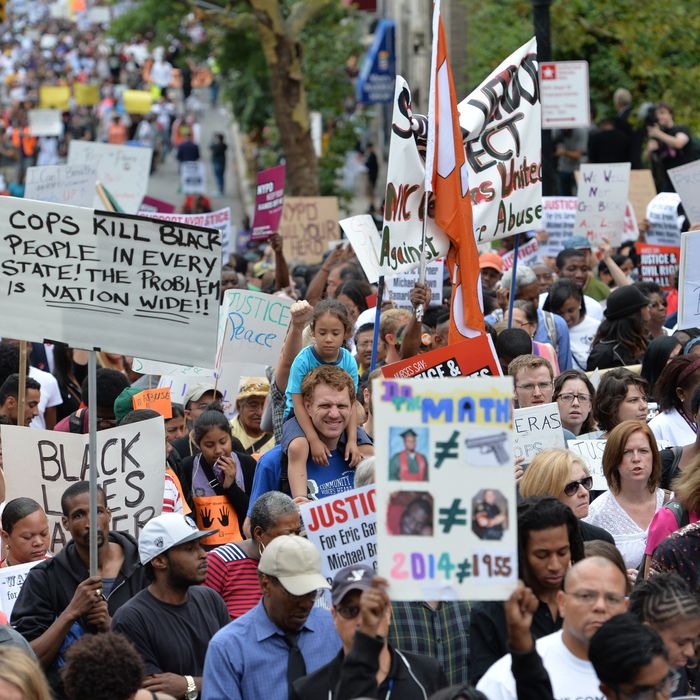 After several weeks of bickering over how, exactly, it would happen, Reverend Al Sharpton led a big demonstration to protest Eric Garner's July death and police brutality in general. On Saturday, at least 2,500 people (according to the NYPD) were bused, ferried, and otherwise conveyed to Staten Island, where they marched from the Tompkinsville sidewalk where Garner collapsed to the Staten Island district attorney's office and the 120 Precinct house. Earlier this week, Staten Island District Attorney Daniel Donovan said that a grand jury was set to consider bringing charges agains the cops who jumped and choked Garner right before he died.
In addition to former governor David Paterson and a number of New York City councilmembers, Sharpton was joined by Garner's children, wife, and mother, as well as by the mothers of Amadou Diallo and Ramarley Graham, both of whom were also killed by the NYPD. Michael Brown's parents reportedly planned to attend the protest, though it's not clear if they did. 
"This is my family now," Graham's mother, Constance Malcolm, told the crowd. "Garner's family is my family now. "We're in the same boat, the one no one should want to be in. I don't want to be here — I have to be here."
Ramsey Orta, the man who filmed the infamous video of Garner's arrest, also made an appearance: 
"We are not against police," he said while addressing the rally. "But those police who break the law must be held accountable." Meanwhile, the marchers and the NYPD avoided confrontations with one another throughout the event. The march proceeded without any arrests or serious incidents — an outcome that seemed to please both the cops and the protesters.