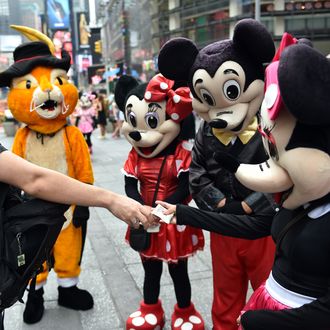 Photo: Stan Honda/AFP/Getty Images
Hello Kitty is really mad and she's not gonna take it anymore.
The cadre of off-brand children's characters working to make a buck by posing for photos with tourists in Times Square is getting fed up with what they see as unfair treatment. According to the Daily News, approximately 50 of the superheroes, Disney characters, and Muppets are meeting today with representatives from La Fuente, a worker and community fund, to discuss creating a labor group that could help them unite and fight for better treatment.
Many of the Times Square workers say that ever since the NYPD started handing out its informational flyers informing tourists they're not required to tip, they've been looked at as criminals.
"We realized we needed to unite when we started seeing the bad publicity," one man who dresses as Batman told the Daily News. "People don't see us with respect. … We support our families with the tips they give us."
Guess this is the Avengers-style uprising we've been waiting for.