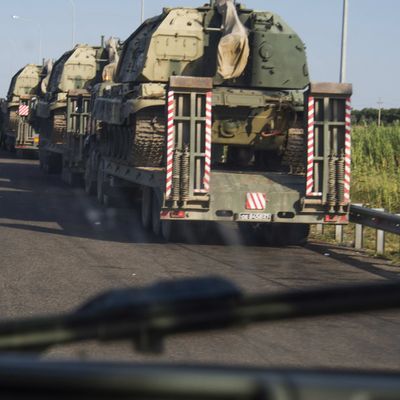 Photo: Igor Golovniov/ZUMA Wire/Corbis
Things are not looking good along the Russia-Ukraine border, as the two countries seem to be headed in an unmistakably warlike direction. In a recent power play, Russia announced that it wants to pass along aid to divided border areas. That's not as innocent as it sounds, and the U.S. isn't having any of it.
Tensions flared at the U.N. Security Council on Friday, and the reasons why are simple: Russia pulled the same stunt just before it invaded Georgia in 2008. (We all know how well that worked out.) Samantha Power, the American ambassador to the U.N., said that Russia has no business delivering aid to the area since international groups have been active there.
"Therefore, any further unilateral intervention by Russia into Ukrainian territory, including one under the guise of providing humanitarian aid, would be completely unacceptable and deeply alarming. And it would be viewed as an invasion of Ukraine," Power told the National Security Council.
These latest threats come as Russia continues building up its troops along the border. The country now has tens of thousands of troops organized across the line, and has been conducting ostentatious military exercises that are not at all meant to be seen as threatening. 
Meanwhile, Russia's Foreign Ministry said that Ukraine's decision to abandon a cease-fire at the MH17 crash site is a violation of U.N. resolutions. The statement contrasted with Ukrainian statements about a continued cease-fire at the site. Earlier reports said that Ukraine's forces were resuming attacks on pro-Russian rebels after investigators withdrew because of nearby fighting.
Russian forces have apparently also arrested Ukrainian soldiers around the border area, while Ukrainian officials are sanctioning dozens of individuals and companies for "support and financing of terrorism."
Never one to sit out a controversy, Kremlin apologist network RT accused the West of hampering investigative efforts at the MH17 crash site. "The international investigating team arrived at the site days after the tragic incident, delayed for security reasons," went one article, failing to mention that the "security reasons" were Russian-backed militiamen in the region.