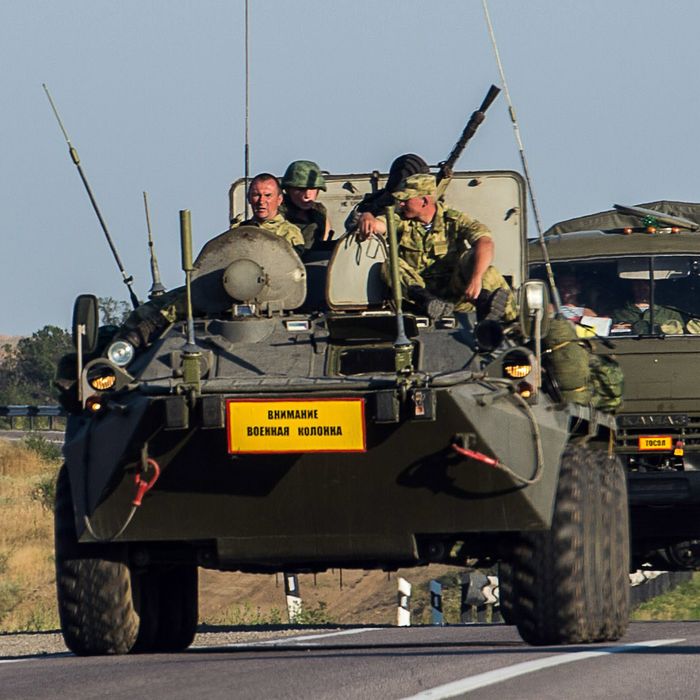 Photo: Dmitry Serebryakov/AFP/Getty Images
Ukrainian president Petro Poroshenko hopped on a call with British PM David Cameron on Friday to chat about the weather and, oh, the fact that Russian military vehicles invaded his country last night. But no worries, Poroshenko said — Ukrainian artillery destroyed a good portion of those vehicles overnight. 
For those who prefer euphemisms, Reuters got in touch with military spokesman Andriy Lysenko, who said, "Appropriate actions were undertaken and a part of it no longer exists." Bam!
According to Poroshenko's press release, the Russian incursion was documented heavily by international journalists — with a special shout-out to the Guardian, whose tweets Intelligencer posted last night. (Hmmm, we wonder what will happen when it's time for Guardian reporter Shaun Walker to renew his Russian visa.) 
However, there seems to be some fishy business around Poroshenko's claims. AFP correspondent Masha Antonova says the original published summary of the call between Poroshenko and Cameron, seen by the organization's Kiev correspondents, made no mention of destroying parts of a Russian military column:
(And Russia, naturally, denies its armored vehicles ever crossed into Ukraine.)
Yet Interpreter Magazine reports that Russian armored vehicles have been spotted near the border, specifically around the Donetsk-Izvarino crossing. The aid convoy — many of whose trucks are suspiciously half-empty — is not far away.
On the bright side, though, it looks like the food aid will finally make it to the ravaged regions of southeastern Ukraine … maybe: