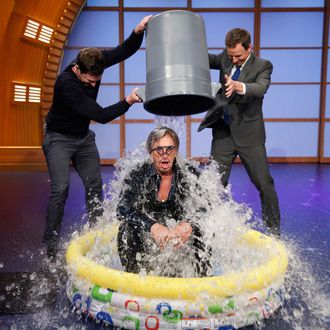 Photo: Lloyd Bishop/NBC via Getty Images
High-profile U.S. diplomats hoping to participate in the nation's favorite wet T-shirt contest (for charity!) are out of luck: The AP reports that U.S. State Department lawyers have banned "American ambassadors and other high-profile foreign service officers" from participating in the ALS Ice Bucket Challenge.
In a memo sent out this week, the State Department said that participating in the challenge could bring up issues regarding "preference and favoritism" when it comes to picking a specific ALS charity to donate to:
"There are firmly established rules preventing the use of public office, such as our ambassadors, for private gain, no matter how worthy a cause," the cable said. "Thus, high-ranking State Department officials are unfortunately unable to participate in the ice bucket challenge. We since wish the ALS Association continued success in its ice bucket campaign, and in its fight against Lou Gehrig's disease."
There goes your chance of seeing John Kerry in a wet T-shirt.