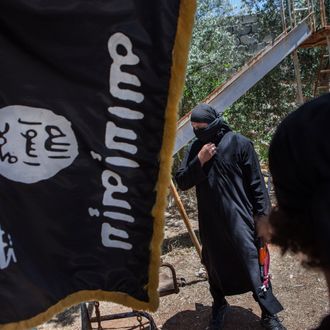 ISIS.
Photo: Daniel Leal-Olivas/Corbis
Kurdish peshmerga fighters, having been beaten miserably by ISIS over the last month, are finally stocking up on weapons, although the U.S. won't say exactly where they're coming from. "They are getting some arming from various sources," an anonymous senior State Department official told the New York Times, denying it was from the Pentagon but "suggesting that the program was part of a covert effort that enlisted the support of other countries." (Meanwhile, "The CIA has historically done similar quiet arming operations," the AP adds.)
To bolster that effort, the administration is also very close to approving plans for the Pentagon to arm the Kurds, a senior official said. In recent days, the U.S. military has been helping facilitate weapons deliveries from the Iraqis to the Kurds, providing logistic assistance and transportation to the north.

The State Department sought to downplay the significance of the apparent shift in U.S. policy.

The militants have "obtained some heavy weaponry, and the Kurds need additional arms and we're providing those — there's nothing new here," said department spokeswoman Jen Psaki.
At the same time, Secretary of State John Kerry has been adamant that Iraq's Prime Minister Nuri Kamal al-Maliki is just about done. "We believe that the government-formation process is critical in terms of sustaining the stability and calm in Iraq, and our hope is that Mr. Maliki will not stir those waters," he said, warning Maliki, "There should be no use of force … no introduction of troops or militias into this moment of democracy for Iraq."
"One thing all Iraqis need to know, that there will be little international support of any kind whatsoever for anything that deviates from the legitimate constitutional process that is in place and being worked on now," said Kerry on Monday, according to the Times. "They need to finish that and give a new government an opportunity to be voted on, then move forward."