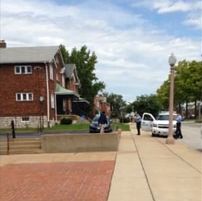 Responding to a shoplifting call just a few miles from the unrest in Ferguson yesterday afternoon, two St. Louis Metropolitan Police Department fired a dozen shots in all at 25-year-old Kajieme Powell, killing him instantly. Described by neighbors as mentally ill, Powell was carrying a knife and shouting, "Shoot me! Shoot me! Shoot me! Shoot me now, motherfucker!" as he approached the officers. Today, the department released a cell-phone video of the shooting, which a rep for the police union called "exculpatory."
From St. Louis Public Radio (warning: very graphic):
With two cans visible on the sidewalk, Powell can be seen pacing back and forth, talking to himself. Seconds after leaving their vehicle, the officers draw their weapons; less than 20 seconds later, Powell is dead.
"They puttin' him in cuffs," says a witness. "He's dead. Oh my god. They just killed this man. He didn't have a gun on him. Now they're cuffing him. He's already dead. The man is already dead."
Others wonder aloud if so many shots were really necessary. "Over a fucking honey bun," says one man. "Over two fucking sodas, y'all," says another. "They could've tased that man."
"I don't think any of us can deny that the tension not only in St. Louis but around the county and the world because of the activities in Ferguson over the last 10 or 12 days certainly has led to us making sure that we got this right and answered as many questions as we could as quickly as we can," said local police chief Sam Dotson after the video's release.
"It's exculpatory for one thing," said Jeff Roorda of the St. Louis Police Officers Association.
At a news conference yesterday, Dotson described the Powell's death as "suicide by cop," based on witness accounts. "Every police officer that's out here has a right to defend themselves," he said. "Officer safety is the number one issue."
The full police report: