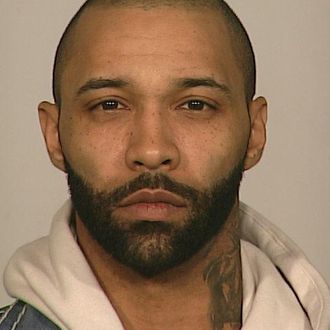 On Saturday morning, the NYPD's Twitter account asked for help finding Joe Budden. The 33-year-old New Jersey–based rapper and former Def Jam artist has been accused of beating his girlfriend and taking her cell phone outside of a Washington Heights restaurant last Sunday. According to the police, Budden then shoved her into a car and drove her to his home, where he attacked her again. (TMZ has photos of the 25-year-old woman's badly bruised limbs.) Unfortunately, Budden's own Twitter presence suggests that he's not taking the charges of assault and robbery very seriously.
First: Even if Budden's name doesn't ring a bell, his biggest hit — 2003's "Pump it Up" — almost certainly will. He still puts out music and currently stars on VH1's Love & Hip Hop.
Budden, who has around 873,000 followers, has been tweeting steadily since the NYPD announced its manhunt:
He gave the cops a clue about his whereabouts on Saturday night, but it wasn't a very good one.
He also participated in an ice-bucket challenge on Sunday afternoon: "Now, fugitive, pour the water on me," Budden's smiley pal demands at the end. 
Budden has also said that the NYPD raided his house earlier this week, though they apparently declined to detain him. His lawyer, Nima Ameri, has released a statement saying that her chatty client "asks for patience as the evidence and facts unfold to demonstrate the truth of his involvement and the real events that transpired on the night in question." She also claimed that he "has fully cooperated with the investigation," which means that she probably doesn't use Twitter herself.