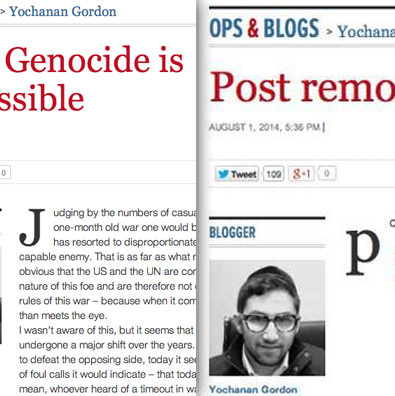 On Friday, the Times of Israel, a Jerusalem-based news website that claims to have a readership of 2 million people, published an op-ed called "When Genocide Is Permissible." The piece, which was written by regular contributor Yochanan Gordon, was pretty much what it sounds like: several hundred words suggesting that the only way for Israel to deal with its "enemy" in Gaza is to "obliterate them completely."
Gordon was sure to make it clear that the "enemy" he referred to was not just the militants of Hamas, but everyone in Gaza:
News anchors such as those from CNN, BBC and Al-Jazeera have not missed an opportunity to point out the majority of innocent civilians who have lost their lives as a result of this war. But anyone who lives with rocket launchers installed or terror tunnels burrowed in or around the vicinity of their home cannot be considered an innocent civilian. If you'll counter, that Hamas has been seen abusing civilians who have attempted to leave their homes in response to Israeli warnings to leave – well then, your beginning to come to terms with the nature of this enemy which should automatically cause the rules of standard warfare to be suspended.
Again, when Yochanan Gordon says "genocide," he means "genocide." Here's his conclusion:
If political leaders and military experts determine that the only way to achieve its goal of sustaining quiet is through genocide is it then permissible to achieve those responsible goals?
It didn't take too long for someone over at the Times of Israel to come to their senses and delete the column, though we really wonder who allowed it to be put online in the first place. (Gordon's deranged headline has been replaced with a simple "post removed," and the text of the post is gone.) Of course, whoever took the piece down didn't do it fast enough to beat the people of the internet, who preserved it in the form of screenshots and PDFs, one of which is below. Feel free not to read it.
Update: In a statement to the Daily Beast, Times of Israel op-ed editor Miriam Herschlag sort of explained how Gordon's piece made it onto her website. "The blog post, which was both damnable and ignorant, was posted to the site by a blogger," Herschlag wrote. "It was removed by the Times of Israel for breaching our editorial guidelines. The blog has been discontinued."
While Gordon briefly took to Twitter in an attempt to defend his indefensible position, he now seems to have deleted his account (his Facebook page also appears to have been taken down). He then issued a short apology, witing, "I never intended to call to harm any people although my words may have conveyed that message."