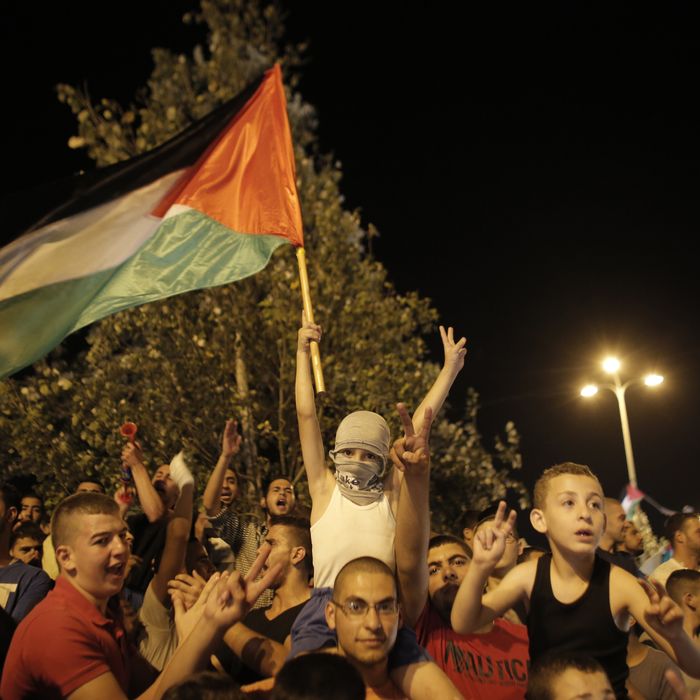 Palestinian celebrate in the streets in East Jerusalem after the truce was announced.
Photo: AHMAD GHARABLI/AFP/Getty Images
The situation in Gaza remained peaceful in the first 12 hours since a long-term cease-fire officially went into effect at 7 p.m. local time on Tuesday. However, as both sides begin to take stock, it seems little was gained in the 50-day conflict, and much of the deal has yet to be hashed out. Ultimately, the war left 64 Israeli soldiers and six civilians dead, and killed 2,139 Palestinians, including 490 children.
Israel said it succeeded in severely weakening Hamas and destroying the group's tunnels across its border, but the mood there remained fairly somber after the deal was announced. Meanwhile, Hamas declared victory and people filled the streets to celebrate. "We have mixed feelings," Gaza teacher Ahmed Awf told Reuters as he headed to the festivities holding his 2-year-old son. "We are in pain for the losses but we are also proud we fought this war alone and we were not broken."
The Egyptian-brokered deal outlines some immediate improvements in Gaza. In addition to an end to the fighting on both sides, it calls for the opening of Gaza border crossings with Israel and Egypt. The zone where Gaza fisherman can work will be extended from three miles to six miles off the shore, and Israel is expected to narrow its buffer inside the Gaza border from 300 meters to 100 meters, providing more land for Palestinian farmers.
Among the many issues that will be decided when talks continue in the coming weeks are the Palestinians' demands for the release of hundreds of prisoners, the construction of a sea port in Gaza, and the rebuilding of Yasser Arafat International Airport. Israel is calling for the demilitarization of the Gaza Strip, strict monitoring of imports to make sure Hamas can't rebuild its infrastructure, and the return of dead Israeli soldiers' remains and personal effects. 
Depressingly, the cease-fire agreement is very similar to one offered a week into the conflict, and the New York Times notes that "in effect, the deal put both sides back where they were at the end of eight days of fighting in 2012."
Obviously, ending the violence is a huge step, but it's too soon to tell whether it will lead to a lasting peace. United Nations Secretary General Ban Ki-moon of the United Nations warned, "Any peace effort that does not tackle the root causes of the crisis will do little more than set the stage for the next cycle of violence."