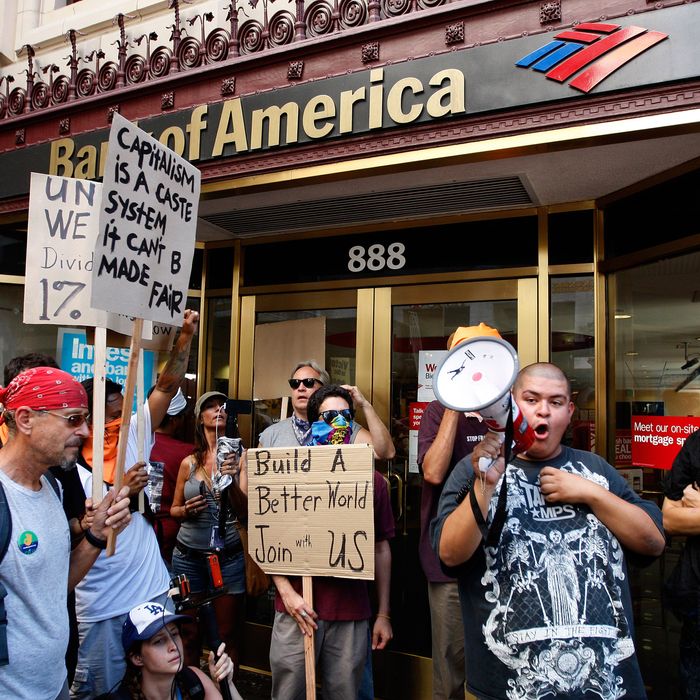 Photo: David McNew/Getty Images
It's hard to think of a big business that has had a worse six-year run than Bank of America.
In 2008, it purchased Countrywide and Merrill Lynch, thus becoming a major player in housing and investment banking just as the real-estate bubble collapsed and the country tipped into the worst financial crisis since the Great Depression. Today, the Department of Justice announced that it has reached a whopping $16.65 billion civil settlement related to the bank's mortgage shenanigans.
Here's a capsule history of what happened in between, as told through New York Times headlines:
Ending Rocky Tenure, Chief Is to Leave Bank of America, October 1,

 

2009
Bank of America Posts Loss for Year, January 21,

 

2010
Cuomo Sues Bank of America, Even as It Settles With

S.E.

C., February 5,

 

2010
Bank of America's Ex-Chief Denies Fraud in Merrill Deal, August 21,

 

2010
Ex-Chief Haunts Bank of America, September 1,

 

2010
Layoffs Said to Be Near For Bank of America Unit, September 21,

 

2010
Bank of America Reports $7.3 Billion Loss, Citing Charges, October 20,

 

2010
Two States Sue Bank of America Over Mortgages, December 18,

 

2010
Bank of America to Settle Overdrafts Suit for $410 Million, May 24,

 

2011
Bank of America Back in an Abyss, August 9,

 

2011
Struggling Bank of America Makes Changes in Upper Management, September 7,

 

2011
Bank of America Confirms Plan to Cut 30,000 Positions, September 13,

 

2011
For Bank of America, a Looming $50 Billion Claim of Havoc, September 28,

 

2011
Bank of America Settles Suit for $375 Million, July 18,

 

2012
Ex-Bank of America Official Indicted in Muni Bid-Rigging, July 21,

 

2012
Bank of America Settles Suit Over Merrill for $2.43 Billion, September 29,

 

2012

U.S.

Accuses Bank of America Of a 'Brazen' Mortgage Fraud, October 25,

 

2012
Mortgage Crisis Lingers On At Citi and Bank of America, January 18,

 

2013
Bank of America Faces a Big Lawsuit With Low Legal Reserves, March 7,

 

2013
Bank of America to Pay $772 Million in Settlement, April 10,

 

2014
Bank of America, Weighed by Legal Costs, Posts Loss, April 17,

 

2014
In short, BofA struggled to mop up the messes it bought from Countrywide and Merrill, and made a whole host of new ones as the housing market cratered — including encouraging its employees to foreclose and lying to distressed homeowners. No wonder it ranked dead last in a recent poll of the public reputations of 50 big firms, placing it below Monsanto, Goldman Sachs, BP, and even Halliburton.
But maybe, just maybe, the company has turned a page. The improving economy has let it expand its lending portfolio and cut its losses. And with the $17 billion settlement — the largest settlement between the government and a single company in American history — the biggest of its legal fights looks to be over, even though those payments might weigh on its books in the near term and it still has a number of outstanding legal problems.
And it has been costly. The settlement brings BofA's total bill for its mortgage-related shenanigans to nearly $70 billion. How much did it pay for Countrywide, the font of most of these troubles, back in 2008? $2.5 billion.