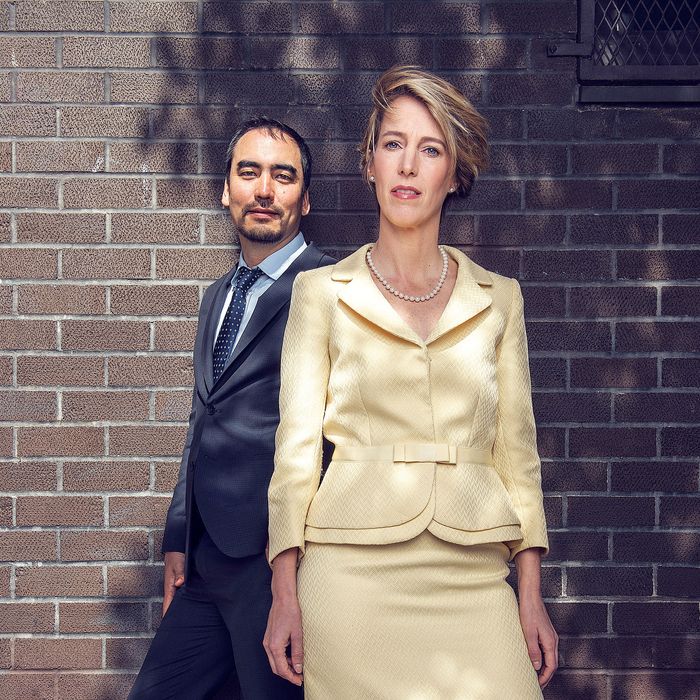 Zephyr Teachout and Tim Wu
Photo: Christopher Anderson/Magnum Photos/New York Magazine
"
Really, they're not hippies," says Zephyr Teachout, who is riding in a yellow cab over the Manhattan Bridge. She is talking about her parents, the ones who named her Zephyr Teachout. "That's the truth—they just liked the name! I joke about it being a millstone, but it never hurts to have a name that sticks
out."
Especially if you're running what's widely perceived as a novelty campaign. Teachout, a 42-year-old constitutional-law professor at Fordham University, is taking on New York governor Andrew Cuomo in the Democratic primary on September 9, from far to his left, in what started as a third-party bid. (Cuomo, despite his liberal blasphemies, won the Working Families Party nomination after all.) Like Bill de Blasio, only without the decades of insider political experience, Teachout is a vocal warrior against income inequality.
Teachout is earnestly hopeful about the campaign's chances. But while she aims to be Occupy Wall Street's version of an insurgent tea-party candidate, she will almost certainly have to settle, like Occupy, for some consciousness-raising. Teachout has never held public office, and a poll taken one month from Primary Day found that 78 percent of potential voters had never heard of her, even with that name. Her biggest recognition bump to date came from a ham-handed effort on the part of Cuomo to challenge Teachout's residency (she moved here in 2009, as is well documented). "Everyone stops to watch a fight," she says, a lesson she picked up as digital director of Howard Dean's 2004 presidential campaign.
"Where the hell are we going?" says Teachout, dressed in her official politician's uniform of pearls and a magenta blazer with gold zippers. She's on her way to a Brooklyn public-access station—walking distance from her Fort Greene apartment—that agreed to host her shoestring campaign crew, ahead of an on-air interview, for its Ask Me Anything event, the hugely popular live question-and-answer series on social forum Reddit. It's a soggy late-summer day, and her policy director–body man, fresh out of grad school for public policy, is leading the way. 
When Teachout arrives in the windowless temporary war room, her running mate for lieutenant governor, Columbia law professor Tim Wu, is already waiting at a MacBook. Because of the unpredictable nature of low-turnout primaries, it's possible Wu, who moonlights as a highbrow technology writer and is no stranger to the media party scene, could win his race even if Teachout fails to unseat the governor. He's surrounded by a handful of young aides, one in dirty Chuck Taylors and skinny jeans and another struggling with the speakerphone, and five more laptops. 
After checking her Twitter notifications, Teachout gets right to it, fielding questions from eager, idealistic Redditors while Gchatting with her team for talking points. "All of these are easy!" she says giddily. She takes one on corruption in Albany while Wu lays out their opposition to the Comcast–Time Warner merger. As the self-described "father" of net neutrality, Wu is a mini-celeb in the Reddit world. "Net neutrality is like women's suffrage for geeks—in the 1910s only women cared about it." Wu reminds Teachout that they need to iron out their position on crypto-currency. "It's important for raising money on the West Coast."
Although Teachout boasts of bringing in more individual donors in a single day—multiple times—than Cuomo did in an entire filing period, the governor's campaign war chest is over $35 million, while hers sits at slightly more than $500,000. "One of the things I care about a lot is public financing in elections. If we had it, we'd be in the millions," says Teachout. "I think about it every fucking morning," she mutters in the direction of her computer screen.
The next day, endorsements from campaign-finance-reform champion Lawrence Lessig, Wu's old professor at Harvard, and the Public Employees Federation, the second-largest public union in New York, will help, bringing in another 714 donors. In an almost-too-perfect development for the campaign, Cuomo is currently facing a U.S. Attorney investigation for shutting down the Moreland Commission, his own anti-corruption panel, when it got close to his cronies. Lessig calls Teachout "the most important anti-corruption candidate in America today." (Conveniently, her book Corruption in America will be published by Harvard University Press before the primary. )
During the allotted hour on Reddit, Teachout and Wu manage to cover most of their pet issues—like banning fracking and bringing high-tech jobs upstate—clacking away on their respective keyboards. They also answer questions about their preferred bagels (Teachout's: everything, toasted with cream cheese—"period") and one nerd-favorite inside joke that's a default of the Reddit Ask Me Anything, adjusted for state politics: "Would you fight 100 duck-size Governor Cuomos, or one Governor Cuomo–size duck?" (Answer: "One Cuomo-size duck would be easier, because the 100 duck-size Cuomos would get behind you and kick you off the ballot," a reference to the governor's attempt at tarring Teachout as a Vermonter.) The chat tops out at nearly 300 comments, better than the "I worked at a comic-book store for two years!" Ask Me Anything session but not quite at the level of "the guy with two penises," whose Ask Me Anything topped 17,000.
Next, Teachout's ferried upstairs to film her interview segment on BK Live, a DIY afternoon newscast. In front of the camera, the professor is rehearsed, but she pats her chest repeatedly for emphasis, hitting the microphone pinned to her lapel. A production assistant in the wings cringes with each awkward thud, four times in all.
Back in the Reddit room to regroup, Teachout is more concerned with what happened backstage, where I'd watched her get makeup done, than onscreen. "I'm not going to tell you how to write your story, but I just want you to keep in mind that talking about a female candidate's appearance can damage her chances of winning, even if it's not negative," she tells me. She offers to send me a study on the subject.
The daughter of a judge and a law professor, Teachout describes her young self as "a little tomboy. Is that a p.c. phrase anymore?" she wonders, not joking. As an adult she turned to community theater as a hobby. A few years ago, while summering in her home state, she starred in a small production of Samuel Beckett's Happy Days as Winnie, a woman who spends the entire play buried in growing amounts of dirt.
Instead of going to a media trainer, Teachout went to her friend Danyon Davis, a physical-acting teacher at Juilliard, for advice on self-presentation. "He said, 'What's important to recognize is that when people come, they come with curiosity. Your job is not to try to dazzle them, but to leave space for them to take that moment of curiosity and turn it into action. That requires a lot of vulnerability and a lot of silence.' "
If something like the Michael Brown protests in Ferguson, Missouri, erupted on her watch, Teachout says, she'd lead through the crisis "by simply being present and allowing and listening to how people are experiencing it." But she also supports the use of cameras on cops to record all police-citizen confrontations and speaks out against broken-windows policing and militarized law enforcement.
"I'm a real underdog, but I can still see a path to victory," Teachout says, citing the upset of Eric Cantor in Virginia by the underfunded, unknown tea-party candidate David Brat as a recent historical precedent. "I want to be governor."  
*This article appears in the August 25, 2014 issue of New York Magazine.