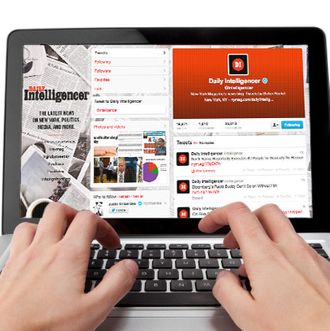 Welcome back to the New York Magazine Competition. On alternate Mondays, we lay out a challenge and offer a sample responses. Enter in the comments section, or on Twitter with the hashtag we've provided, and the editors will select a winner. Criteria are highly subjective, but heavily retweeted and favorited posts will have an advantage. The prize is a year's subscription to New York in print or a two-year subscription to the iPad edition (winner's choice). Full rules are here.
COMPETITION NO. 30: NOTES HOME FROM SCHOOL. Please compose a teacher's letter to the parent of a familiar student. For example:
Dear Mrs. Jenner:
I'm afraid Kim got into the glitter again.

Dear Mr. and Mrs. Pynchon:
Tommy's doing very well in English, but he's had difficulty in Public Speaking this year …

Dear Mrs. Yankovic:
Our chorus teacher has expressed some frustration with your son's unwillingness to sing the same lyrics as the rest of the class …
Enter in the comments thread on nymag.com's Daily Intelligencer, or on Twitter with the hashtag #noteshomefromschool, by September 17.
RESULTS OF COMPETITION NO. 29: ANCIENT SEINFELD, in which you were asked to supply a line or scenario from a very early Seinfeld episode. 
HONORABLE MENTION TO:
"You very bad man, Genghis. Very bad man."
—MiddleCoastDan

"No gruel for you!"
—bobpiano
"This is an argonaut reed. It writes upside down."
—clippityclop
God: "I'm going to get right to the point. It has come to my attention that you and Eve have engaged in sexual intercourse in the Garden of Eden.
Is that correct?"
Adam: "Was that wrong? Should I not have done that?"
—Howie629
"This matzah is making me thirsty!"
—djt2014
Elaine: "Jerry, the man is a doctor."
Jerry: "Doctor? He's a barber."
Elaine: "It's the same thing."
—hoipolloi
"Hello … Jesus."
"Hello … Judas."
—@jackipa
"That's bronze, Jerry! Bronze!"
—@kovacsLLC
"I was in the Baths of Caracalla! I was in the Baths of Caracalla!!!"
—gianna13
Mulva, angriest of the Greek furies, confronts Jerry.
—@AuntyThesis
"From out of the East came three wise men, and their names were Mandelbaum, Mandelbaum, Mandelbaum."
—ragman
"I'm not sure if he's orgy-worthy."
—dzg111
"You most likely know it as Istanbul, but it will always be Constantinople to me."
—@omgwtfbible
"You were making out during the gladiator fights?!"
— mmcl520
"The sea was parting that day, my friends."
—@TB1
AND THE WINNER IS:
"So this angel named Gabriel visited me last night, and yadda yadda yadda—I'm pregnant with the son of God."
—dchiciak