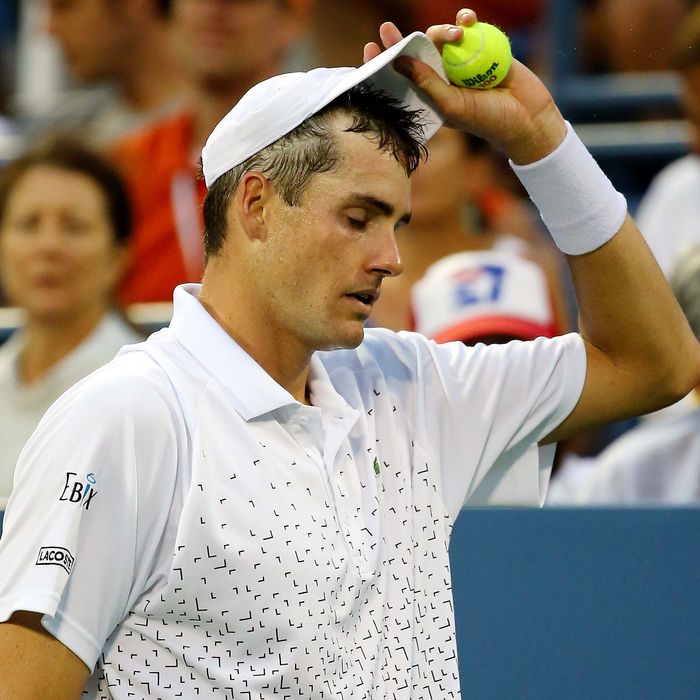 Sorry, John Isner — you're not our man.
Photo: Al Bello/Getty Images
No matter who wins the U.S. Open Men's Singles final between Japan's Kei Nishikori and Croatia's Marin Cilic this evening, one guaranteed result is that fans who were hoping to see an American compete on the last day of the tournament (or in a men's semifinal … or quarterfinal … ) will go home disappointed again. Apart from the long-standing dominance of 32-year-old Serena Williams, the state of top-level U.S. tennis is as bleak as it's ever been. (This year's Wimbledon marked the first time in a century that no U.S. player of either gender qualified for the round of 16 in singles.) The last time an American-who-is-not-named-Venus-or-Serena won a Grand Slam title was over a decade ago — Andy Roddick in 2003 — even as the U.S. Tennis Association has ramped up development efforts and planned a swanky academy to train top players. But last week, after years of criticism, Patrick McEnroe announced he would be leaving his post as the head of player development. As USTA officials search for a new leader, we asked some former stars, coaches, and juniors what they think America needs to do to generate another tennis great.  
1. Think Tall
The intense, warlike nature of the modern baseline ground game requires tennis players to be physical specimens, and it's no accident so many players breaking into the top ten are big. "There's so much power in today's game that any prospect, especially on the men's side, needs to have a tall frame to make it deep in the draw," says Jeffrey Tarango, the former pro, coach, and television commentator. He suggests "interviewing the parents" of prospects" to see how tall they are." 
2. Stay Home
While conventional wisdom in tennis development circles has been that talented kids should be sent off to tennis finishing schools at an early age, the pressure of leaving home can be crippling to a young player's psyche. "Staying at home is the best way for kids," says Mats Wilander, the former No. 1 player from Sweden. "When you go to the tennis academies you can lose your social skills and you need to have social skills to be a good tennis player. You literally become a tennis pro when you're 12 years old. You think only tennis, sleep, tennis, and that might not be such a good thing."
3. Be Grungy
Earlier this year, the USTA announced plans to move to Orlando, Florida, and centralize its player development operations at $60 million national tennis facility that will feature over a hundred courts and a dorm for aspiring pros. As impressive as the plans are, some coaches believe young players function better in tougher environments. "The players need to be in an environment where they can be aspirational, where they can dream to achieve or be somewhere else, and these multi-million-dollar facilities with the fancy gyms takes the edge off," says Brian McKeever, a touring coach based in New York. "Look at where Rafael Nadal came from. Three shitty courts and a dumpy courthouse. Look at where Novak Djokovic trained in Serbia? These gritty environments keep the players hungry, and that's a good thing."
4. De-Pressurize Pressure Zones
"I know that players feel so much pressure just to be invited by the USTA to train," says Katerina Stewart, a 17-year-old player from Miami. "Part of the mentality is that if you don't perform, you're out. And that's what happened. The pressure was getting to so many [junior] players that they tightened up and couldn't play well. They got down on themselves, didn't want to practice, and they were out. Then they didn't want to play anymore, but they were so good." 
 5. Track Shots by the Numbers
"If we have a top prospect who has trouble hitting high backhands out of the air, we should know about that," says Mike Van Zutphen, a veteran coach from Arizona. Along with wins and losses, Zutphen believes a national player development program should numerically chart every aspect of the game, down to the half-volley. By monitoring a developing player's technique throughout their junior careers, coaches can more easily isolate problem areas to help correct them, and seek the help of specialized coaches to improve them. 
 6. Decrease Expectations, Increase Fun
"There's an emotional part of making a player great," says McKeever. "If you have a toxic environment where there's so much pressure to win and stay in the program, the young players will just tune out. You have to make it cool. You can't make it overwhelmingly difficult. It's so competitive already, you have to find the ways to make it less competitive. It's so intense, you have to find those ways to tune it down."
 7. Keep Local Coaches Involved
One criticism of the current player development program is that local coaches felt the USTA were poaching talent and removing juniors from environments where they were thriving. "Help the local coach," Wilander says. "When a coach knows a player that well and you take them away, it's really dangerous. You should literally try and keep them home as long as possible."
 8. Incentivize Local Coaches
Another challenge with recruiting players to the USTA's facilities is that local coaches lose out on pay. "Think about it from a socioeconomic point of view," Tarango says. "You have these coaches that get paid $100 a day or $1,000 a week or whatever to train these kids, and now the USTA wants to [take] them away. What incentive does the local coach have to send off a player they've been developing, lose money that's been going to them and their academies, and let the USTA take all the credit?"
 9. Standardize Teaching
"Every coach has his or her own way of doing things," Van Zutphen says. "The problem is that these juniors change coaches and get confused." A standard set of universal guidelines or manual on coaching and technique, Van Zutphen says, would help eliminate that confusion and create a more structured system from which to work from.
 10. Embrace 'Crazy' Parents
"I've never met a top ten player that didn't have 'crazy' parents," Tarango says. "They're not really crazy, they are just so obsessed and want it so bad for their kids that they come off as crazy." Engineering a system that supports these parents and local coaches is the key. "We need a complement, not a supplement. Every kid is a snowflake. None of them are the same, and they all melt at different temperatures. How are you going to know what's going on with these kids if you're not in touch with their mothers and fathers?"