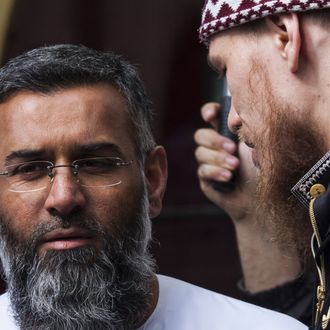 Photo: Paul Davey/Demotix/Corbis
British police searched 18 buildings Thursday in the capital and Midlands region, arresting nine alleged members of a banned radical Islamist organization speculated by the media to be Al Muhajiroun. The sweep was "part of an ongoing investigation into Islamist-related terrorism and [is] not in response to any immediate public safety risk," British police said.
Al Muhajiroun, or the Immigrants, was active in the U.K. until 2005, and its offshoot organizations have also been accused of glorifying terrorism. When the group tried to resume operations in 2009, it was quickly banned under the U.K.'s Terrorism Act 2000. Banning a group, of course, doesn't mean it no longer exists.
Among those arrested was said to be well-known preacher Anjem Choudhury, according to some news reports. Choudhury was a radical cleric known for supporting American Al Qaeda preacher Anwar al-Awlaki. (Awlaki was killed by an American drone strike in Yemen in 2011.) According to the New York Times, he also organized Westboro-like protests to interrupt the return of the bodies of British soldiers killed fighting in the Middle East.
The raids came just a day after British prime minister David Cameron committed to seeking permission to aid the U.S.-led campaign against ISIS in Iraq and Syria.
Overnight, strikes in Syria continued, with the U.S. and Arab states targeting ISIS-built oil refineries that produce several hundred barrels of oil daily. Observer groups confirmed that several of them had been hit in the strikes, and the U.K.-based Syrian Observatory for Human Rights said another 19 people were killed, 14 of them militants.