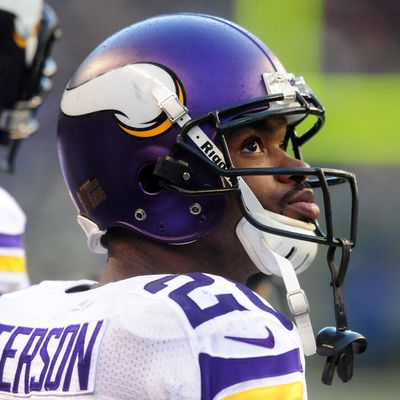 Photo: Steve Dykes/2013 Getty Images
On the same day the Minnesota Vikings announced that star running back Adrian Peterson, who is facing felony charges in Texas for child abuse, will play again next Sunday after skipping just one game, there are new allegations that Peterson hit and scarred another one of his children. Peterson was indicted by a grand jury on Friday for using a "switch" on his 4-year-old son last summer, leaving cuts and bruises on his back, buttocks, legs, hands, and scrotum. On Monday night, KHOU 11 News showed photos and text messages that appear to show Peterson discussing beating his 4-year-old son by a different mother in June 2013, leaving a scar above the boy's right eye.
The incident allegedly occurred when the boy, who lives out of state, was visiting Peterson's home in Houston, Texas. The boy's mother texts to ask what happened to his head. "Hit his head on the Carseat," Peterson replies. The mother asks if he means the boy got a "whoopin in the car," and Peterson says yes, adding, "I felt so bad. But he did it his self." He never directly answers her question about what the child was beaten with, but remarks, "Be still n take ya whooping he would have saved the scare [scar]. He aight."
One photo, which was allegedly texted by Peterson to the mother, shows the boy with bandages on his head. Another photo taken several weeks later shows a scar in the same spot.
Sources say the mother filed a report with Child Protective Services, but it's unclear how the agency responded. Peterson's attorney Rusty Hardin issued a statement on Monday night saying his client did nothing wrong. "The allegation of another investigation into Adrian Peterson is simply not true," he said. "This is not a new allegation, it's one that is unsubstantiated and was shopped around to authorities in two states over a year ago and nothing came of it. An adult witness adamantly insists Adrian did nothing inappropriate with his son. There is no ongoing or new investigation."
Peterson issued a lengthy apology earlier on Monday, saying he was hit as a child, but learned after speaking with a psychologist that there are more appropriate ways to discipline a child. "No one can understand the hurt that I feel for my son and for the harm I caused him," he said.
The Vikings said that during the more recent child abuse investigation, they were "made aware of an allegation from 2013 in which authorities took no action against Adrian," and directed all other questions to Peterson's attorneys.
While the team is obviously trying to be cautious in light of the ongoing Ray Rice domestic violence scandal, its response was filled with mixed messages. On Monday afternoon Vikings general manager Rick Spielman explained that the team deactivated Peterson last week because it needed time to "evaluate the situation." While he repeatedly emphasized that child abuse is a serious issue, he said the team believes Peterson "deserves to play" as the legal process plays out.
When asked what playing Peterson says to abuse victims, Spielman suggested the team thinks the beating was merely discipline, but simultaneously doesn't know what to make of the incident:
I understand that this is a very difficult thing to handle. But we also feel strongly as an organization that this is disciplining a child. Whether it's an abusive situation or not, or whether he went too far disciplining, we feel very strongly that that is the court's decision to make, but we also understand the seriousness of abusing children as well.
In other words, we just want to play football and make money, so please stop asking us all these awkward questions.