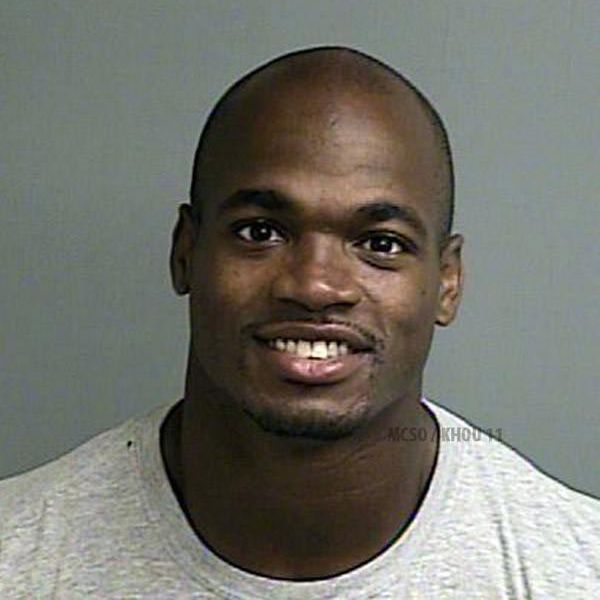 Photo: Montgomery County Sheriff's Office/KHOU 11
In the NFL's other other current case of horrifying domestic violence, star Minnesota Vikings running back Adrian Peterson stands accused of child abuse for beating his 4-year-old son with a switch. ("Daddy Peterson hit me on my face. There are a lot of belts in Daddy's closet," the child reportedly told police, adding that the professional athlete "has a whooping room.") While Peterson sat out Sunday's game against the Patriots — the Vikings got crushed 30–7 — the team announced today that their best player will practice with the team this week, despite his criminal indictment, and is expected to play on Sunday. One week out was apparently enough for now.
"To be clear, we take very seriously any matter that involves the welfare of a child," said Vikings owners Zygi and Mark Wilf in a statement. "At this time, however, we believe this is a matter of due process and we should allow the legal system to proceed so we can come to the most effective conclusions and then determine the appropriate course of action. This is a difficult path to navigate, and our focus is on doing the right thing. Currently we believe we are at a juncture where the most appropriate next step is to allow the judicial process to move forward."
Peterson, for his part, has only tweeted a Bible verse:
In the long, chilling shadow of the Ray Rice story, the NFL, which has said it is reviewing the Peterson case under the league's personal conduct policy, will be (rightly) pressured by some to stop the Viking from taking the field. Although there's no video of the incident, there are graphic pictures of the child's injuries. But based on what we've seen recently from Commissioner Roger Goodell, that might not be enough.
Update: Peterson has released a statement. It reads, in part:
I have to live with the fact that when I disciplined my son the way I was disciplined as a child, I caused an injury that I never intended or thought would happen. I know that many people disagree with the way I disciplined my child. I also understand after meeting with a psychologist that there are other alternative ways of disciplining a child that may be more appropriate. I have learned a lot and have had to reevaluate how I discipline my son going forward. But deep in my heart I have always believed I could have been one of those kids that was lost in the streets without the discipline instilled in me by my parents and other relatives. I have always believed that the way my parents disciplined me has a great deal to do with the success I have enjoyed as a man. I love my son and I will continue to become a better parent and learn from any mistakes I ever make.

I am not a perfect son. I am not a perfect husband. I am not a perfect parent, but I am, without a doubt, not a child abuser. I am someone that disciplined his child and did not intend to cause him any injury. No one can understand the hurt that I feel for my son and for the harm I caused him. My goal is always to teach my son right from wrong and that's what I tried to do that day.