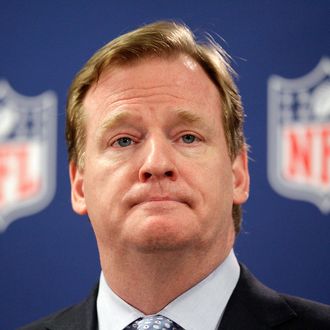 Photo: David Goldman/AP/Corbis
The NFL is still scrambling to save face in the wake of the Ray Rice scandal, but somehow it managed to find a story that makes commissioner Roger Goodell sound even worse. There have been calls for Goodell's resignation following accusations that the NFL has had video of Rice assaulting his wife, Janay Rice, for months and initially went easy on him anyway. On Thursday, an anonymous NFL owner explained to The Wall Street Journal that Goodell was quick to drop the incident because Janay told him (during a meeting with six male NFL executives and the man who hit her, as Deadspin notes) that she felt she was partly to blame. He also accepted that she was knocked out when she fell, not from the punch. While that's a textbook response from a victim of domestic violence, supposedly Goodell felt it would have been "insensitive" to question her story.
The Journal reports, "Two people familiar with the commissioner's thinking, including the owner, said they believe the thoroughness of the investigation, and Goodell's decision to suspend Rice for two games, both reflected Goodell's discomfort with challenging Janay Rice's story." So don't blame Goodell for the NFL's awful response, blame … ugh.
Meanwhile, CBS Sports provided an example of a good — or, at least, non-heinous — response to a story on domestic violence. For starters, they scrapped plans for the pre-game show before the newly Rice-free Baltimore Ravens faced the Pittsburgh Steelers to include a comedy skit and Don Cheadle doing narration over a Rihanna song.
Instead, the first half hour was devoted to coverage of the Rice story, with a recap from Scott Pelley and a pre-taped interview with Ravens owner Steve Bisciotti. Then host James Brown delivered an excellent monologue on how men can help combat domestic violence.
"So this is yet another call to men to stand up and take responsibility for their thoughts, their words, their deeds, and, as Deion [Sanders] says, to give help or to get help, because our silence is deafening and deadly," he concluded.
Then the camera cut to Steelers quarterback Ben Roethlisberger, who was suspended for six games in 2010 for allegedly sexually assaulting a female college student. Goodell later reduced his suspension to four games.