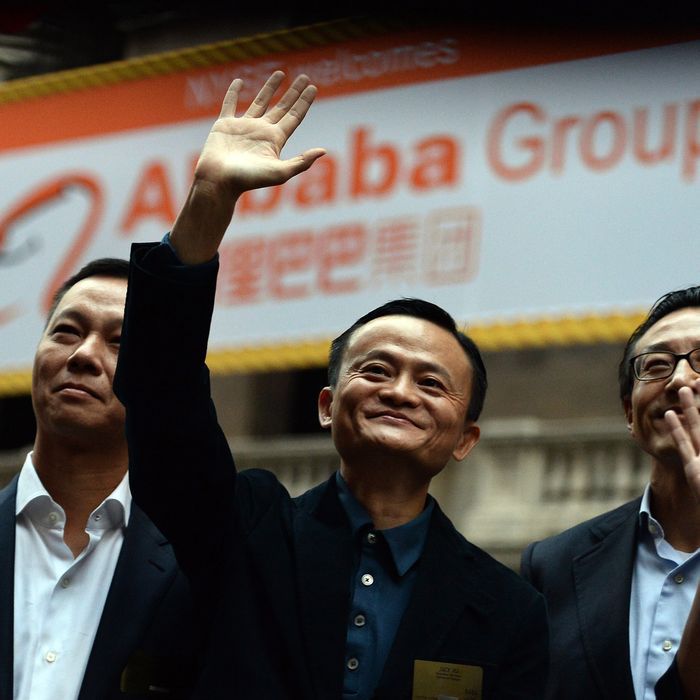 Alibaba founder Jack Ma at the NYSE today.
Photo: Jewel Samad/AFP/Getty Images
Alibaba, the Chinese e-commerce giant, made its market debut this morning in a $22 billion public offering. The initial offering price valued the company at $168 billion, making it bigger than its closest American analogue, Amazon, and one of the biggest IPOs of all time.
If you're just catching up on Alibaba: It's a giant Chinese conglomerate, started by a former English teacher named Jack Ma, that has become the largest seller of online goods in China, as well as the largest payment processor and cloud storage business. (Think Amazon plus eBay plus PayPal plus Dropbox, plus a bunch of other rolled-up services, and you'll come close.) You can use Alibaba's marketplace to buy multicolored pants, a $30,000 worm train, and many other delightful oddities, in addition to normal household goods.
Ma will become one of the world's richest men after today's stock sale, with a stake worth more than $13 billion. The offering is also expected to create hundreds if not thousands of new Alibaba millionaires in Hangzhou, the company's hometown.
The news that Alibaba was considering going public sent Wall Street into a tizzy earlier this year, with banks fighting each other tooth and nail for part of the underwriting action. But the Americans who are happiest about Alibaba's stock market debut are probably executives at Yahoo. A decade ago, in one of the luckiest moves in recent Silicon Valley history, Yahoo invested $1 billion into Alibaba. (Its stake is now worth as much as $35 billion.)
Alibaba is a fascinating company for many reasons, but one thing that sets it apart from American rivals is the diversity of its executive ranks. There are 9 women on the company's 27-member management committee, including its chief financial officer. "That's triple the ratio of women in board seats and senior executive roles at the largest companies in California," Bloomberg writes.
Part of what's made Alibaba a success is its role as the e-commerce engine for China's emerging middle class. Times columnist Farhad Manjoo wrote earlier this year that "the crux of Alibaba's pitch to investors is that Chinese customers will begin to act much more like American customers." Today, consumer spending accounts for only a third of China's GDP, as opposed to two thirds of America's. If that changes, it could send many more customers Alibaba's way.
Jack Ma, who isn't well known outside finance and tech circles in America, is a wonderfully quirky chief executive. According to The Guardian, Ma "used a dizzying array of visual symbols to describe his management philosophy, including fish in a pond and gold bars falling from the sky" in an interview with an American business school professor. Today, at the New York Stock Exchange, Ma apparently quipped that his hero was Forrest Gump and referred to himself in the third person. ("15 years ago I told people that if Jack Ma can be successful, 80% of people in China can be successful.") He's getting the hang of this eccentric billionaire thing already.