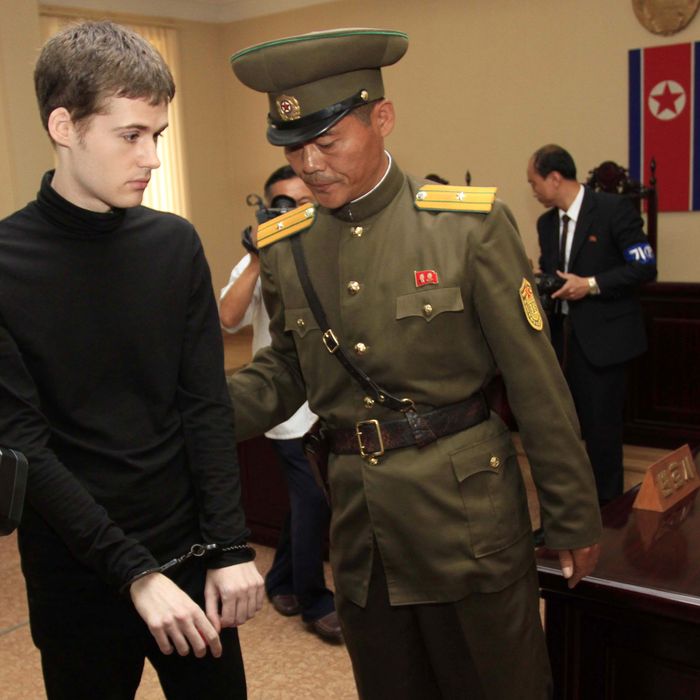 After 90 minutes of legal proceedings, North Korea's Supreme Court found 24-year-old American Matthew Miller guilty of "acts hostile to the DPRK while entering … under the guise of a tourist." His sentence is six years of hard labor. 
The reasons for Miller's detainment in North Korea are a little unclear. From the Washington Post:
Initial reports said that when he arrived April 10 in Pyongyang, he tore his tourist visa and shouted that he wanted asylum. "He came to the DPRK after choosing it as a shelter," [state-run news outlet] KCNA reported.

In an interview with CNN this month, during which Miller was monitored by North Korean officials, he said he "prepared to violate the law of DPRK before coming here, and I deliberately committed my crime."

But during Sunday's trial, Miller said he tore up his tourist visa at the Pyongyang airport because he had the "wild ambition" of experiencing prison life in North Korea so that he could write about human rights in the country, reported the Associated Press, which was allowed to attend the trial.

The asylum stunt was just a trick by Miller to get himself into a jail, the prosecution said. It also said that he falsely claimed to have secret information about the U.S. military in South Korea on his iPad and iPod, AP reported.
According to the Associated Press, Miller looked unwell at his trial, where he wore a black turtleneck and black pants even though it's summer. He's one of three Americans currently in custody in North Korea: Missionary Kenneth Bae is already two years into his own hard labor sentence there, while 56-year-old equipment operator Jeffery Fowle is still awaiting his show trial.
"Now that Mr. Miller has gone through a legal process, we urge the DPRK to grant him amnesty and immediate release," said a State Department spokesperson after the sentencing. The State Department has offered to send its North Korean human rights envoy, Robert King, to Pyongyang to negotiate for the men's release, but dictator Kim Jong-un appears to be holding out for someone more high profile. Don't count on Dennis Rodman to deal with it.