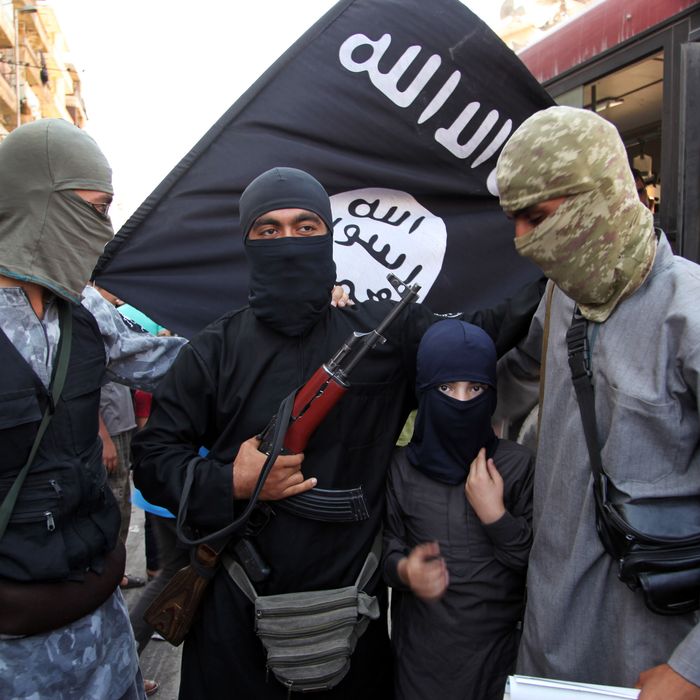 Photo: Medyan Dairieh/Corbis
Coming home, coming home, tell the world they're coming home — except in this case, "they" means Americans who took up arms to fight with the terrorist group ISIS in Syria.
According to a senior Obama administration official, at least some of the 100 or so Americans who joined ISIS in Syria have since turned back. (Numbers of Europeans among their ranks are thought to be much higher.) "It includes those who've gone, those who've tried to go, some who've come back and are under active — the FBI is looking at them," the official said on Monday, referring reporters to the FBI for more comment on "FBI matters."
It's the first time an administration official has confirmed that some members of the terrorist organization have in fact returned to the U.S.
In the past, experts told Intelligencer that many Western recruits are turned off by ISIS's overt brutality, which far exceeds anything even those wanting to fight ever expected. Speculation about Westerners returning home have been around for weeks, including last week's claim by Representative Tim Bishop that several dozen fighters are back on U.S. soil.
Ordinarily, Western citizens who join extremist groups abroad will face prison time if they return. But recently, Denmark introduced a rehab program for Syrian fighters that would offer social services instead of incarceration. Those coming back to the U.S., though, won't be so lucky if the FBI catches up with them.