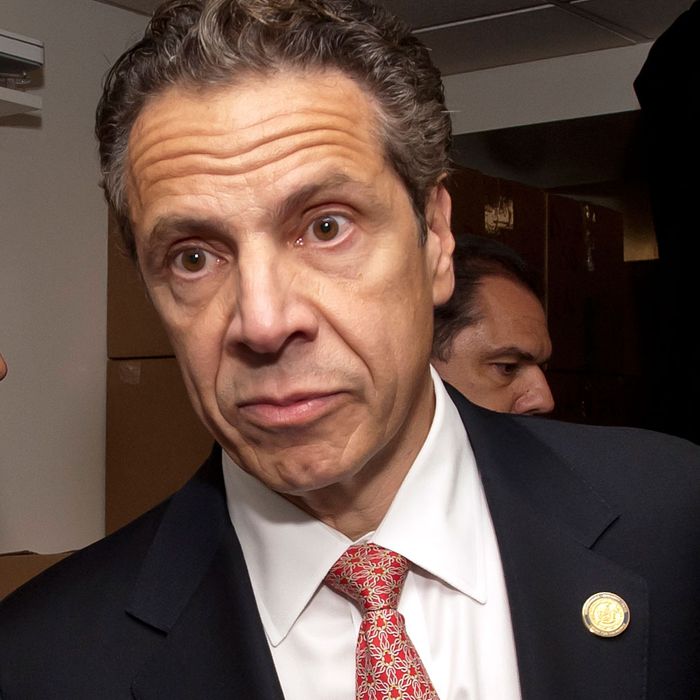 Is it over yet?
Photo: David McGlynn/Splash News/Corbis
Back on June 1, when this liberal ordeal was just getting started for Governor Andrew Cuomo, he emerged from a bruising weekend at the Working Families Party convention saying he'd gotten what he'd wanted. "At these political conventions, you either win or lose," Cuomo said after marching in a parade on Fifth Avenue. "I won."
Cuomo can correctly claim the same thing this morning. He defeated Zephyr Teachout by approximately 62 to 35. His handpicked choice for lieutenant governor, Kathy Hochul, also won, 60–40, over Tim Wu. The pair move on to the general election in November, where they'll face Republicans Rob Astorino and Christopher Moss, and they'll probably win again.
That's important, of course: Actually holding office for the next four years comes with a whole lot more power than losing and making a point. But the past three months have generated a lowlight reel for the governor that won't go away as quickly as he'd like. First he tried to knock Teachout off the ballot in court, and failed. Then he refused to acknowledge Teachout's existence, not speaking her name or, more embarrassing, looking her in the eye last weekend during another Fifth Avenue parade. Both are standard political tactics, but both made him look graceless, and as if he had something to fear. Meanwhile, he clumsily tried to fend off the corruption investigation by U.S. Attorney Preet Bharara.
In a perverse way, the primary debacle showed Cuomo hasn't lost his political acumen. One reason he tied himself in knots to get the WFP nomination was that he knew he had a significant problem with New York's lefty voters; imagine what this morning's numbers would look like if Cuomo hadn't secured the WFP line. He leaned on Mayor Bill de Blasio, and First Lady Chirlane McCray, for progressive cover. And choosing Hochul, after lavishing money and attention on Western New York, paid off: Cuomo did well in the region four years after having lost Erie County, in the general election, to Carl Paladino.
All of which makes the next two months a bigger test for Cuomo than he wanted or expected, judged not simply by whether he runs up a big margin over Astorino. This time, the governor needs to come out and make his case. He'll probably never win the hearts of liberals. But maybe Cuomo can persuade some minds that he's heard their criticisms and that his brand of hardball deserves another four years.