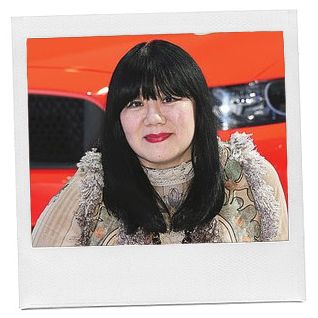 Photo: Courtesy of Anna Sui
Name: Anna Sui
Age: "I never say."
Neighborhood: Greenwich Village
Occupation: Fashion designer, fragrance launcher, Ford collaborator, on their latest Mustang Unleashed campaign. You can purchase her design here.

Who's your favorite New Yorker, living or dead, real or fictional?
One of the reasons that I came to New York — besides wanting to be a fashion designer — was that my idol was Diana Vreeland. And I was lucky enough to have seen her, but I never really knew her or worked with her. I think I'm that generation; we had our idols and we came here from small towns.
What's the best meal you've eaten in New York?
Actually the other day we went to Tang Pavilion, which is kind of like our family gathering restaurant. We hadn't been in a long time because we would always go after the shows at Bryant Park, but my cousin had invited everyone because my mom and brother were town. Their Chinese food is like our family home cooking. Actually, my parents had their 50th anniversary at that restaurant. It's very, very sentimental.

In one sentence, what do you actually do all day in your job?
Designing is a very small part of my job during the days; it's usually problem solving and making sure we're all moving forward.

What was your first job in New York?
When I was at Parsons, I got a job sketching  in one of the Geoffrey Beene showrooms. It was very intimidating. I loved it. When I received the Geoffrey Beene award, that was the first thing I told him.

What's the last thing you saw on Broadway?
This weekend I'm going to see Love Letters, the one with Mia Farrow. The last play I saw was The Maids with Cate Blanchett — is that considered Broadway? It was incredible. It was the sickest thing I've ever seen.

Do you give money to panhandlers?
No.

What's your drink?
Ice water and iced coffee.

How often do you prepare your own meals?
A couple nights a week, whenever I don't go out to dinner. I'm not a great cook, so I don't really invite people over for my cuisine, but it's what I like.

What's your favorite medication?
Advil.

What is the best thing in or about your apartment?
I think people say it's my closet, because my closet's inspired by The Lion, the Witch, and the Wardrobe. I had an armoire, and when we were renovating my apartment, my contractor asked where I wanted the door to my closet. So then I just had this idea of taking the armoire, putting it against the wall, and making that the entrance. So now there's like a whole room behind the armoire.

What's the craziest thing you've ever seen on the subway?
There's that new thing, what's it called pole dancing? That's pretty wild. It's a little scary if you're sitting by them, but it's pretty extraordinary what they can do.

When was the last time you stayed out past 3 a.m.?
I think probably on a late flight. For some reason, airlines are always late now and flights are delayed and finally you get back to New York and there's no cabs and then you have to wait for the cabs and then by the time you get home it's like 3 a.m. The last time I stayed out past 3 a.m. for fun was New Year's. It's not a regular thing.

Which do you prefer, the old Times Square or the new Times Square?
The old Times Square. There was just so much more character. Now it's kind of like Disney World. And those costumed people are so scary. I saw Elmo in the deli getting dressed and it was one of the most frightening things I've ever seen, because he was wringing out his Elmo costume because it was just soaking wet, and he was holding it up to a fan to dry it out. If a kid saw that they would never go close to one of those guys. It was terrifying enough as an adult.

What do you think of Mayor de Blasio?
Well, it was very exciting because his daughter came to my show. And she was with a friend and her friend was wearing one of my dresses, and Chiara was wearing blue lipstick so I just thought wow, she's pretty far out. And I think it's pretty great that he's behind the whole fashion industry here.

What do you hate most about living in New York?
I think it's really sad that we're losing the neighborhoods. The shops that kind of made the characters of the neighborhood are gone, like a restaurant or a thrift shop or even a drugstore. Everything's turning into a giant mall. That was one of the most magical things about New York, the fact that there were all these pockets and interesting neighborhoods. And sometimes you even felt like you were traveling back in time, like "this block hasn't aged 40 years." And even in the garment center, all those old places that had original owners that were hoarding after the depression and had the most incredible trims or buttons or ribbons — they're all disappearing and it's just sad to see.

If you could banish one person from New York forever, who would it be?
That's a hard one. Weird Elmos in Times Square.

When's the last time you drove a car?
I sat behind the wheel of the new Mustang! That's the first thing I wanted to do when I saw it at the auto show. Because being from Detroit, it was always my dream to drive a Mustang.  You couldn't take it anywhere, though, because it was in the Jacob Javits center. I just sat behind the wheel. The last time I actually drove a car was when my driver's license was coming up due and I was afraid that I was going to have to take a road test, so my trainer from my gym said "oh, I'll go driving with you" so we drove around across the George Washington Bridge to New Jersey and back, just to practice.

Finish this sentence: The NYPD _____.
I was going to say something about the uniforms, but isn't that kind of a cop-out? But I mean, okay, I like their old-fashioned uniforms more, because it was more of a uniform. Now it's gotten kind of casual.

Times, Post, or Daily News?
Times.

Where do you go to be alone?
I go home. That's my sanctuary. I like the kind of atmosphere I've created at home and it has everything that I love around me, so it's a nice escape from my office and from the whole city in general.

What makes someone a New Yorker?
I think they've gotta put in their time here; it's not someone who's just been here a couple months or a couple years. It's somebody that really lives and works here and has been here for a while. You have to pay your dues.