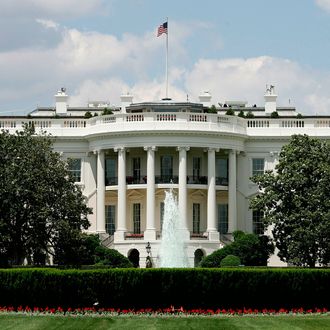 Photo: Alex Wong/Getty Images
Less than 24 hours after 42-year-old Oscar Gonzalez jumped the fence and managed to open a door to the White House, another guy was arrested for trying to enter the presidential residence. The Associated Press reports that the would-be intruder "approached one of the White House gates on foot" on Saturday afternoon. Later, he drove up another gate in a white four-door sedan, "pulled into the vehicle screening area," and refused to leave. The surrounding streets were shut down while bomb technicians searched the car, but the White House was not placed on lockdown or evacuated. 
As Gonzalez probably learned at some point on Friday night, President Obama and his family are currently out of town, so it's not clear what the copycat was hoping to accomplish during this thwarted visit. It's possible that he just wanted to enjoy this nice autumn weather on the grounds of a beautiful mansion, though it seems more likely that he was more interested in blowing it up (regardless of whether he had the equipment to do so) or at least ranting about something.