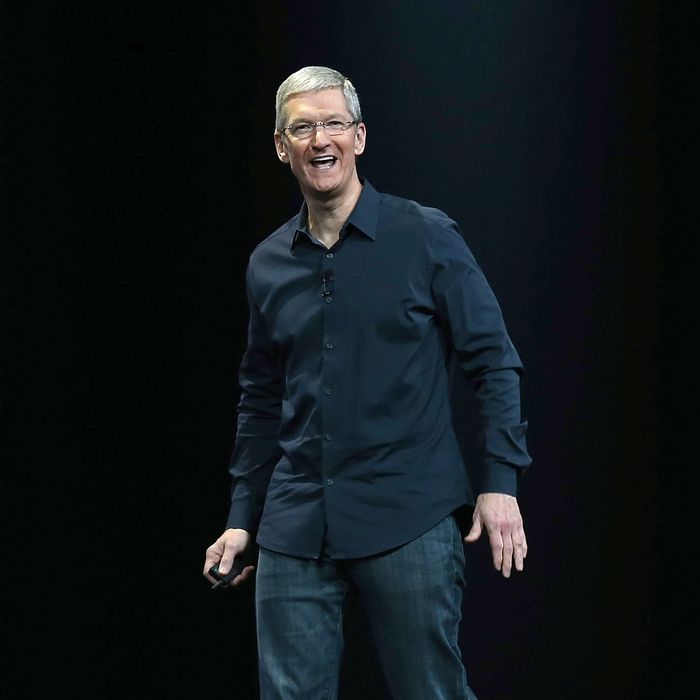 Oops! I mean, nothing to see here!
Photo: Justin Sullivan/Getty Images
For the last week, Apple has been under fire for its role in the enormous trove of celebrity nudes that were stolen from users' iCloud accounts. Immediately after the hack, Apple released a statement saying that while its own servers weren't breached, some of its users' accounts were subjected to a "targeted attack on user names, passwords and security questions" by criminal hackers. Essentially: "Don't look at us! Not our fault!"
Now Apple seems to be admitting that, well, actually, it could have made iCloud accounts much safer by implementing a few basic changes.
From today's Wall Street Journal comes this article, which is complete with a head-scratching opening sentence (emphasis mine):
Apple said it plans additional steps to keep hackers out of user accounts, but denied that a lax attitude toward security had allowed intruders to post nude photos of celebrities on the Internet.
So, Apple's user security infrastructure worked perfectly well, but "additional steps" are necessary to prevent more hacks in the future? Okay then!
Anyway, CEO Tim Cook told the Journal that Apple is now going to make iCloud accounts more secure by alerting users via email and push notification when someone tries to change a password, log in from a new device, or restore an iCloud backup. (It won't, however, prevent those things before they happen.) The use of two-factor authentication will also be expanded, and users will be more aggressively encouraged to turn it on.
Cook acknowledged, correctly, that just because Apple's servers weren't hacked doesn't mean that its security protocol is strong enough. ("When I step back from this terrible scenario that happened and say what more could we have done, I think about the awareness piece," Cook said. "I think we have a responsibility to ratchet that up. That's not really an engineering thing.") Designing systems that keep users secure and keeping hackers out of your servers aren't the same thing. If celebrities got hacked because iCloud didn't prompt them to turn on security features, let them disable easily guessed security questions, limit the number of password attempts before a lock-out, or make the potential vulnerabilities clear to the average user, that's not the celebrities' fault — it's Apple's.
These problems with Apple's security infrastructure may not be an "engineering thing," in the sense of a systemwide vulnerability — but it all feels the same if you're the iCloud user whose nude photos are now ricocheting around the internet. It's a shame it took a major hack and a PR crisis for Apple to admit that its role in keeping customer data safe includes making it easy and intuitive for users to secure themselves.