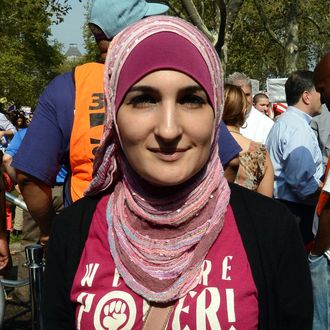 Photo: Cem Ozdel/Anadolu Agency/Getty Images
Arab American Association of New York director Linda Sarsour says she was walking with a colleague in Bay Ridge on Wednesday when a man approached them, began hurling Islamophobic epithets, and threatened to behead her. The man, identified as Brian Boshell, 45, also allegedly threw a metal trash can at the two women.
Sarsour, a Palestinian-American activist who wears the hijab, was just blocks away from her office when the attack occurred. No one was injured.
She recounted the attack  — and complained about police inaction  — in a post on Facebook:
My Deputy Director and I were harassed and assaulted by a bigoted drunk who hurled hateful Islamophobic and anti-Arab epithets at us on 5th Avenue in Bay Ridge. He said "you are cutting people's heads off sharmoota, I'm going to cut off your head and see how your people will feel, you Arab bitch" and plenty more after that. He had some sort of item or tool in his back pocket (we could see the handle of it) he ran after us and picked up a huge NYC metal garbage can and threw it at us causing us to have to run in to oncoming traffic. AAANY is five blocks away from a police precinct and it took NYPD over 45 minutes to show up. But even before that I went to 4th avenue and saw an empty police car parked on the corner, immediately looked around saw Steve's bagels and walked in. Sure enough, the cops who were dispatched were ordering sandwiches. That exchange didn't go well. Maybe next time I need a knife in my back before the police think it's important enough for them to show up.
A follow-up post clarified that "top brass" at the NYPD had gotten involved, and the suspect was later apprehended. According to the Daily News, Sarsour had reported him as a suspicious person even before the attack. At least 59 anti-Muslim hate crimes occurred in New York between 2009 and 2011. 
New York City mayor Bill de Blasio was one of many who have expressed their support for Sarsour: