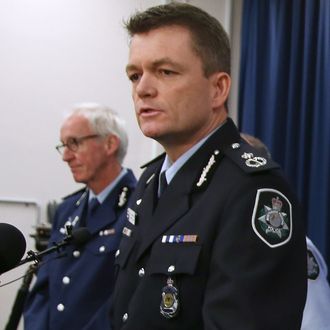 Photo: Rick Rycroft/AP/Corbis
Australian authorities conducted sweeping raids Thursday morning in an effort to thwart what they are describing as an ISIS-linked public execution plot. According to police, the attack was ordered by ISIS's most senior Australian member, 33-year-old Mohammad Ali Baryalei — a man whom some outlets describe as a bouncer and part-time actor. ISIS-affiliated individuals in Australia were allegedly going to abduct a random individual from the street in Sydney or Brisbane, behead them on camera, and send the videos to ISIS's propaganda machine for release.
"This is not just suspicion, this is intent, and that's why the police and security agencies decided to act in the way they have," said Australian prime minister Tony Abbott. The country raised its terror-threat level to high last week.
The Australian plot evidently first came to the authorities' attention in May, suggesting that it was not linked to the country's decision to join the anti-ISIS coalition earlier this week. About 60 Australians are believed to have joined the terrorist organization.
More than 800 police raided over two dozen Australian homes and swept up 15 people in the raid. The only name known so far is that of Omarjan Azari, who, like many of ISIS's recruits, is young — just 22. He's being charged with conspiracy to commit a terrorist act. 
According to ABC, raids in Brisbane found machetes and military fatigues in suspects' homes. They are also said to have had balaclavas, probably not because they were fans of Pussy Riot.