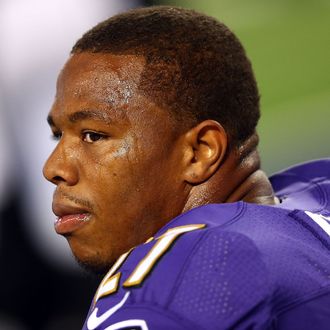 Photo: Ronald Martinez/Getty Images
According to a tweet sent out by the official Baltimore Ravens Twitter account, the NFL team has terminated running back Ray Rice's contract.
NFL commissioner Roger Goodell also announced Rice's indefinite suspension from the NFL, via NFL spokesperson Greg Aiello.
The termination comes after a video surfaced earlier today showing Rice punching his then-fiancée and now-wife Janay Palmer and knocking her unconscious in an Atlantic City casino elevator.
The Baltimore Ravens originally supported Ray Rice following the felony charge of aggravated assault, which some pointed out may have to do with the front-loading of his contract. According to NBC Sports:
The contract Rice signed in July 2012 paid out $24 million by March 2013, with another $1 million in base salary last season. That's $25 million already given to Rice in two seasons, with only $10 million remaining in base salary over the next three years.
Prior to the news of the contract termination, Rice was serving a two-game suspension for his assault indictment. 
This is a breaking news story and will be updated