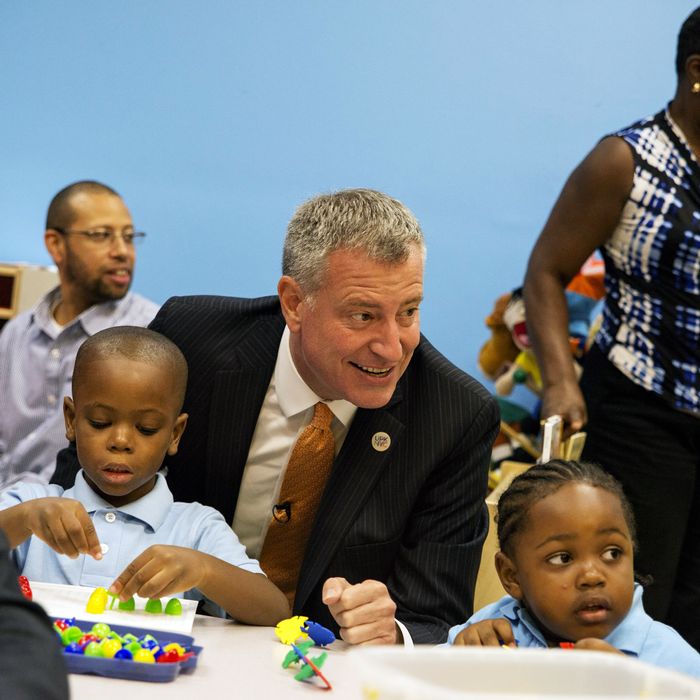 De Blasio and two first-day pre-K students
Photo: Theodore Parisienne-Pool/Getty Images
As you may have heard, the city's expanded pre-kindergarten program starts today. How well pre-K works is a very big deal — politically, for Mayor Bill de Blasio, and educationally, for the 30,000 new kids. With all the hype, money, and energy being devoted to 4-year-olds, though, it has almost been possible to forget that there are 13 other grades — and that the mayor's plans for improving them have been slower to come into focus.
Take, for instance, candidate de Blasio's second high-profile education promise, that he'd impose a moratorium on high school "closures." Mayor Michael Bloomberg's team contended that it didn't really close failing schools — that it broke up big, dysfunctional high schools into smaller, more manageable units, because it was the only way to replace entrenched staff. The results, in terms of grades and graduation rates, were often positive, but the political fallout from the tactic was enormous, and some of the toughest-to-educate kids were further marginalized.
The new mayor has kept his word on the moratorium: The 17 high schools graded F on their final Bloomberg report card all reopened today. De Blasio hasn't ruled out shutting underperforming schools if it's eventually necessary, but what he'll be doing as an alternative in the meantime is harder to determine. "The schools chancellor, Carmen Farina, keeps saying that she's about to announce their new strategy for assisting struggling schools," says David Bloomfield, a professor of education leadership at the CUNY Graduate Center and Brooklyn College. "It hasn't come yet."
And it may never, at least in the bells-and-whistles, screaming-and-headlines form the past 12 years conditioned us to expect. De Blasio's boldest education initiative, apart from pre-K, has been negotiating a new teachers' union contract. Educational improvements, he believes, will flow faster and easier from labor peace, and the new mayor clearly wants to move away from the overarching, often contentious strokes of the Bloomberg years.
For high schools, this means there have been a series of modest moves so far. Farina has installed a superintendent, Aimee Horowitz, to oversee troubled buildings; she's launching a program to have retired principals mentor current high school leaders; she's boosting the amount of time devoted to teacher training.
The rest remains a bit vague. "We are really working to support struggling schools with a team of instructional people that are going to be going in and doing targeted intervention," says Dorita Gibson, the senior deputy chancellor. "Each school is different, and we want to make sure we're working with the school community, together, so we can address all the needs."
Which sounds rational and nice. Within walking distance of City Hall, however, is one rugged example of just how hard it is to improve a flailing high school. Murry Bergtraum serves a disproportionate number of poor and poorly prepared students; the result has been years of dismal graduation rates and security problems. The school also has an especially aggressive teachers union chapter that thinks UFT president Mike Mulgrew didn't fight Bloomberg hard enough.
Last week Bergtraum got its fourth principal in six years. "You cannot turn around these schools without bringing in a team of people, and Bergtraum had a staff that was not willing to change," says Ernest Logan, head of the principals' union. "I don't know what the plan is for this school now." Logan nonetheless says he's "optimistic" about the new educational era.
Collaboration instead of confrontation is the hallmark of the de Blasio approach, not just in the schools. Now all the mayor needs to do is turn good will into better grades.