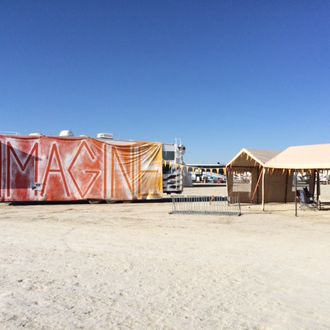 If you're not ready to commit to a self-marriage, perhaps you were looking for love on the playa at Burning Man last week. A few hopeful souls on Craigslist certainly were, but their budding desert romances were quickly derailed by robot hearts and horse sailboats. Come take a journey with us through the spiritual arena of Burning Man Missed Connections. (My playa name is Cat Princess.)
"looking for John from Half Moon Bay–we met Saturday at Burning Man"  w4m (430&G)
If you're a handsome, dark-haired man named John, this lady was wowed by you after you offered her "a gift containing googly eyes." 
"i tried to find you at the fallout shelter later," she writes, "but they'd never heard of you."
:'(
"lindsey you rode my art cart twice at burning man" m4w (new york)
Lindsey, this guy wants to "know what your film is about" and also probably make out.
"I lost you at burning man" w4m
A woman with long, wavy hair dressed in a belly-dancing outfit is seeking her Prince Charming, a man named "Goblin" who "rode the robot heart" with her. Burning Man sounds mad romantic.
"'Brother' with the chai tea cart in deep playa" m4m
This one is so good it deserves to be reprinted in its entirety:
On Friday night we met you in deep playa. You were serving chai tea from a cart you built yourself and brought out on a tandem bike, in exchange for either two compliments or a secret. You were also dispensing free spiritual advice. Your playa name was Brother and you said you were from Berkeley.

There were three of us. You told us that your favorite teacher said that you never *have* to do anything and can choose to do what you do.

We thought you were really cool and wanted to connect in the default world!
Here is our fee:
1) your chai was awesome
2) we thought you were really cool
May you all find each other, you lovable band of complete weirdos.