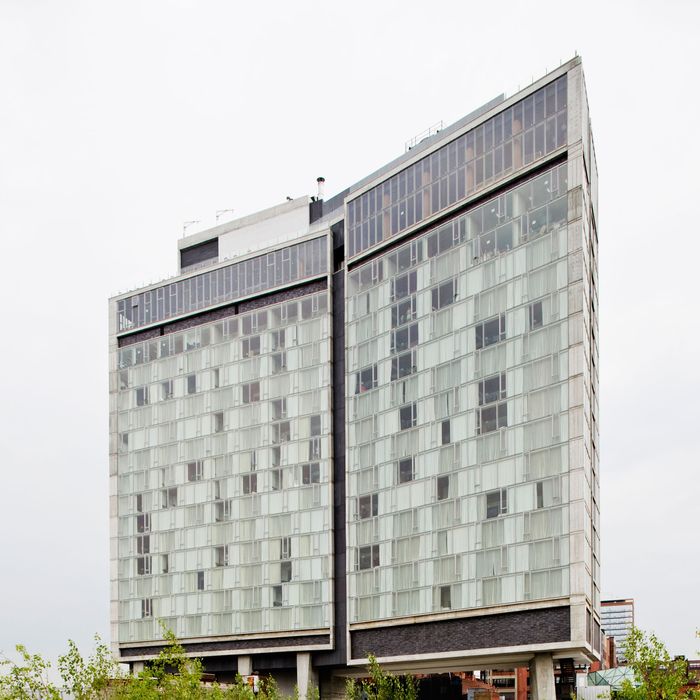 Photo: James Leynse/? Corbis. All Rights Reserved.
Two teachers and a lawyer walk into a bar. A man offers to buy the trio some drinks. Security intervenes, accusing the women of being sex workers. Guess who were the only black people present at the establishment?
That's what three professional women say happened to them last month at the Standard hotel in Manhattan, an ugly instance of racial profiling that's gained attention only after Django Unchained actress Danièle Watts claimed she was accused by the LAPD of prostitution for kissing her white partner. That, unfortunately, was not an isolated incident.
AlterNet has the story from Kantaki Washington and her two friends, Cydney Madlock and J. Lyn Thomas:
"After the security guard ushers the brotha away, he comes over to me and my friends and says, 'Come on, ladies. You can buy a drink but you can't be soliciting,'" Washinton told AlterNet in an interview. "We were like, soliciting? He said, 'Don't act stupid with me, ladies. You know what you're doing. Stop soliciting in here. We were like, 'Soliciting what?'"

Shocked, she asked the security guard if he was accusing them of prostitution. "Don't act stupid with me, you know what you were doing," Washington recalls the guard saying.

"Dude, I'm a lawyer and these women are educators," she said in reply. "Why the hell would I be in here soliciting prostitution?" Washington said he answered, "I don't know but that's what you're doing."
When she approached management to complain, Washington says she was told the security guard was an outsourced employee and therefore not technically staff. Weeks later, she received an email offering herself and three guests "back to The Standard for a bottle of champagne in The Top of The Standard or Le Bain, followed by dinner for 4 (valued at $400) at The Standard Grill."
While the profiling incident was not referenced directly, a follow-up message from a staffer read, "Again, I want to apologize for what happened to you here that evening. We are extending this table for 4 as a gesture of goodwill for you and your friends, plus one more person. Please let me know when you would like to come back."
In a statement to Intelligencer, the Standard, through a spokesperson, continued to distance itself from the events: "Both the misinformation and comments made were provided by third parties, not employed by The Standard. The Standard has zero tolerance for any type of discrimination at any of our properties and profusely regrets the situation." A request for clarification about the "misinformation" and free dinner offer did not receive a reply.
As for that misguided $400 olive branch, "we all have careers," one of the women involved told AlterNet. "That's nothing. We can afford that ourselves."