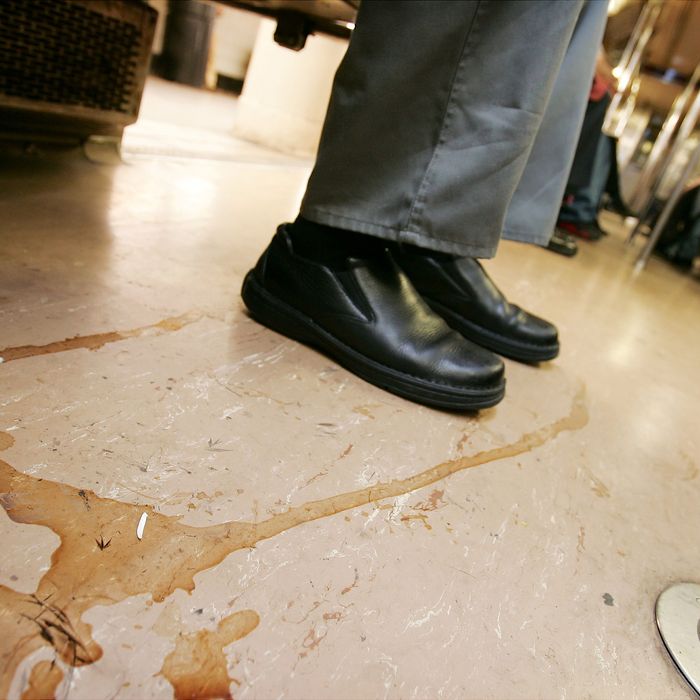 Photo: Craig Warga/NY Daily News Archive via Getty Images
Though often filthy, disgusting, and subject to long, time-consuming, and questionably effective repairs, the subway system is still the best thing about New York. That is, unless you're Bim Adewunmi, a British writer for The Guardian. Adewunmi has found the subway to be an absolute nightmare, because multiple lines of the same color turned her world upside down. "The whole thing resembles a child's approximation of a city transit system: it makes no sense," she writes in a completely incorrect screed.
But wait, there's more! There are no live departure boards on the vast majority of the network's platforms. It means you descend into the bowels of the city with no idea when your next train will be.

And then, when the train does arrive, you must check the front of it to figure out which train it is, because many of the platforms are used by more than one line at any given time. So that might be an express train you just got on, next stop Hoyt-Schermerhorn. Or it might be a local train, which will get you there eight minutes later, via an extra three stops. If you missed the front of the train, you might be able to glimpse your destination on a small panel on the side of the train. Then again, you might not.

Where TfL provides every train carriage with at least three maps of the line being travelled, the MTA is more laissez-faire. If you're lucky, there will be a single, tiny map of the subway, placed at the eye level of a small child, behind a seat that is more often than not occupied by a passenger who must then lean forward and twist their neck to the side to give you access.
The subway's millions of other daily commuters don't find the system that challenging, and know that there are at least two maps per train car. (Although, to be fair to Adewunmi, it sounds like she decided to stay along the worst subway line ever. More research next time, maybe.)
For those who appreciate the MTA's brilliant decision to color code lines that overlap for large parts of service, the hands-down worst part of the damn thing is how dirty it can get. But that's just one of those tradeoffs you make for a 24-hour transit system, unlike, ahem, the Tube. And you know what that rotting trash smells like eventually? Home.