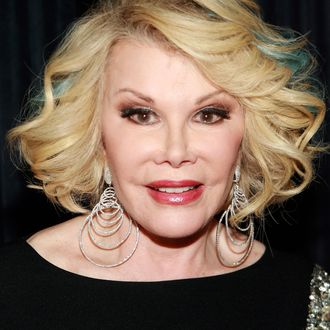 Photo: Sylvain Gaboury/Patrick McMullan
While Joan Rivers was best known for her work as a comedian, she spent a portion of her career doing theater, appearing in Broadway productions of 1971's "Fun City," 1988's "Broadway Bound, and 1994's "Sally Marr … and Her Escorts." (She earned a Tony nomination for "Sally Marr.") And she remained a champion of the industry until the end of her life, telling Vulture last year, "If you don't go to Broadway, you're a fool … Don't tell me there isn't something wonderful playing. If I'm home in New York at night, I'm either at a Broadway or an Off Broadway show." So it seems safe to say that Rivers — whose Sunday funeral featured show tunes — wouldn't have been happy to learn that Broadway did not pay tribute to her after she died, but that's almost what happened.
The Broadway League, which represents 40 New York theaters, initially said that its members would be dimming their marquee lights in Rivers's honor, as is customary when a member of the community dies. "Under our criteria people need to have been very active recently in the theater, or else be synonymous with Broadway — people who made their careers here, or kept it up," executive director Charlotte Martin told the New York Post. "We love Joan — she was very supportive of Broadway and came to a lot of show openings — but she hasn't acted on Broadway in 20 years."
Unsurprisingly, Rivers's many Broadway-based fans made a fuss. The Associated Press reports that, within hours of the announcement, several protest hashtags were created, 5,000 people signed a petition demanding that the Broadway League Rivers her due, and ten spaces said they planned to break with the organization to do so. (Cyndi Lauper, Harvey Fierstein, Donna Murphy, and other luminaries joined the #dimthelightforJoan campaign.) By this afternoon, the Broadway League had changed its mind, announcing that Broadway would, in fact, go dark for one minute in Rivers's honor at 6:45 p.m. tonight. "How hard is it to hit a dimmer switch?" asked producer and light-dimming advocate Tom D'Angora asked before the turnaround. A lot less hard than messing around with the spirit of Joan Rivers, it turns out.